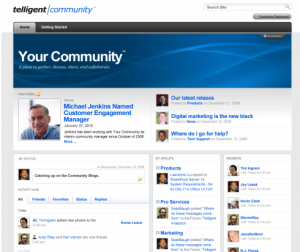 Telligent, the social community software company, announced today its acquisition of San Francisco based online community software maker, Leverage Software.
Patrick Brandt, Telligent CEO, said "We are particularly thrilled to gain the leading cloud technology, people-centered design, prestigious customer list and employee talent that Leverage brings. Telligent and Leverage have roots as pure-play social community providers; consolidation in the market is natural and it's how we grow together."
Leverage is a known pioneer in social on-demand software and many companies rely on its cloud-based social networking capabilities for outward customer as well as internal employee uses including field sales and marketing enablement.  Some well-known customers include: The Home Depot, Redken, Wells Fargo, and Stanford University.  Earlier this year Forrester recognized Telligent as a leader in its report "The Forrester Wave™: Enterprise Social Platforms, Q3 2011".
Brandt said "It's becoming more and more obvious that social is the new norm. Just look at the extraordinary adoption rates of Facebook, LinkedIn and Twitter. We continue to see proof that companies are experiencing enormous real benefit with social; evident by the sheer number of success stories illustrating how businesses are reaping benefit by engaging customers, facilitating partners and enabling employees."
Telligent and Leverage management anticipate a seamless integration.  According to the company press release, Telligent will expand services and functionality for existing Leverage customers in the following ways:
The ability to tap into a large customer community of brands that are industry pioneers and innovators in adopting social across their global organizations
Access to highly rated customer experience and support as well as Telligent's expanded services offerings around implementation, training and educational programs
Becoming part of a larger partner ecosystem comprised of application developers, digital agencies and system integrators
Rob Howard founder and CTO of Telligent said "We are shaping the next decade of social. Telligent and Leverage are expanding our platform capabilities, delivering social anywhere – on your website, smartphone, or your corporate intranet – and we are accelerating our ability to do it in the cloud."