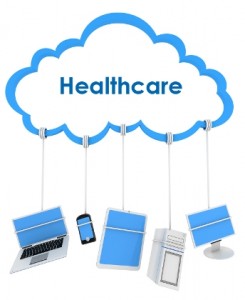 Cloud computing services are increasingly moving into the future in health care. However, the protection and security of private data are two of the main reasons why the healthcare sector is generally slow to adopt new technologies. Market researchers at MarketsandMarkets assume that the health care industry will invest $5.4 Billion in Cloud Computing by 2017.
The "Healthcare Cloud Computing (Clinical, EMR, SaaS, Private, Public, Hybrid) Market – Global Trends, Challenges, Opportunities & Forecasts (2012 – 2017)", published by MarketsandMarkets, analyzes and studies the major market drivers, restraints, and opportunities in North America, Europe, Asia, and Rest of the World. According to the report, Market researchers estimate that last year at least 4% of total health care are changed into the cloud. This year, this share is expected to grow to 20.5%.
Cloud computing offers significant benefits to the healthcare sector; Doctor's clinics, hospitals, and health clinics require quick access to computing and large storage facilities which are not provided in the traditional settings, moreover healthcare data needs to be shared across various settings and geographies which further burdens the healthcare provider and the patient causing significant delay in treatment and loss of time. Cloud caters to all these requirements thus providing the healthcare organizations an incredible opportunity to improve services to their customers, the patients, to share information more easily than ever before, and improve operational efficiency at the same time, the report said.
The flip side of this advantage as per the report is that healthcare data has specific requirements such as security, confidentiality, availability to authorized users, traceability of access, reversibility of data, and long-term preservation. Hence, cloud vendors need to account for all these while conforming to regulations such as HIPAA and Meaningful use.
MarketsandMarkets divided the health care market for the study in two areas, clinical and non-clinical. The clinical applications include software for the pharmaceutical industry, image viewing and processing as well as the patient record and the electronic medical record. Non-clinical applications relate to the receivables management, patient accounting and financial management. One possible advantage to migrate the electronic medical record in a cloud would be that the information of different facilities such as hospitals, doctors, etc. would be accessible regardless of location.
The market is further segmented into applications, deployment models, service models, pricing models, and components. Private, public, and hybrid clouds are the three deployment models across the healthcare industry. The healthcare cloud market by service models is further classified into Software-as-a-Service (SaaS), Platform-as-a-Service (PaaS), and Infrastructure-as-a-Service (IaaS). The market is dominated by SaaS providers such as CareCloud (U.S.), Carestream Health, Inc. (U.S.), Merge Healthcare, Inc. (U.S.), GE Healthcare (U.K.), and Agfa Healthcare (Belgium).
All the above factors bring the market for cloud computing to grow at a CAGR of 20.5% from 2012 to 2017 in healthcare. ITaaS, a combination of software as a service, platform as a service and infrastructure as a service, would save $11 billion to health care organizations or 9 percent, of their costs over the next three years, according to a recent report by MeriTalk.