Gartner Data Center Conference Addresses Virtualization and Cloud Computing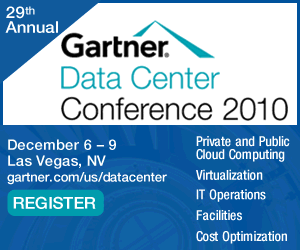 The upcoming Gartner Data Center Conference is set for December 6-9 at Caesars Palace, Las Vegas. The event will feature multiple tracks on a variety of significant topics for the industry, including virtualization and cloud computing. Get ready to take virtualization to the next level with best practices focused on disaster recovery, flexibility, agility and more. Learn what should you be doing about cloud right now; what's practical and possible in the short term as you separate market hype from reality.
Keynote addresses will be given by: Mazen Rawashdeh, Vice president of Technology Operations, eBay; David J. Cappuccio, Gartner Research VP; Philip Dawson, Gartner Research VP and Raymond Paquet, Gartner Managing VP; Tom Bittman, Gartner VP and Distinguished Analyst; and Dave Barry, Humorist and Author.
There will be seven conference tracks covering the breadth and depth you need:
Click here to Register to the Gartner Data Center Conference
Download Free Whitepapers