Appirio, a cloud solution provider, issued results from its first State of the Public Cloud Survey. This survey targeted more than 150 IT decision makers at mid-to-large sized companies that had already implemented at least one of the leading SaaS applications or cloud platforms.
"Companies leading the charge on cloud computing can teach the broader market a lot about what's real, what's hype and what to expect when you move more of your IT to the cloud," said Chris Barbin, CEO of Appirio. "Cloud computing is a highly valuable but disruptive technology, and the enterprises that will be most successful with the transition are those who can learn from the experience of others and look beyond the challenges of today."
The survey found that businesses are pleased with the efficiency and productivity gains provided by cloud computing services.
More than 60 percent of cloud adopters surveyed said cloud solutions are better than on-premises in terms of availability, total cost of ownership, ease of integration, ease of deployment and time to value.
83% agreed that cloud solutions have helped them respond faster to the needs of their business.
29% strongly agreed that cloud solutions have changed the way they run their business.
Nearly 40% say future cloud adoption will be part of an overall business transformation, 65% say it will be part of an IT transformation.
View the short video about the survey and download a free copy of Appirio's State of the Public Cloud report, including full data and commentary.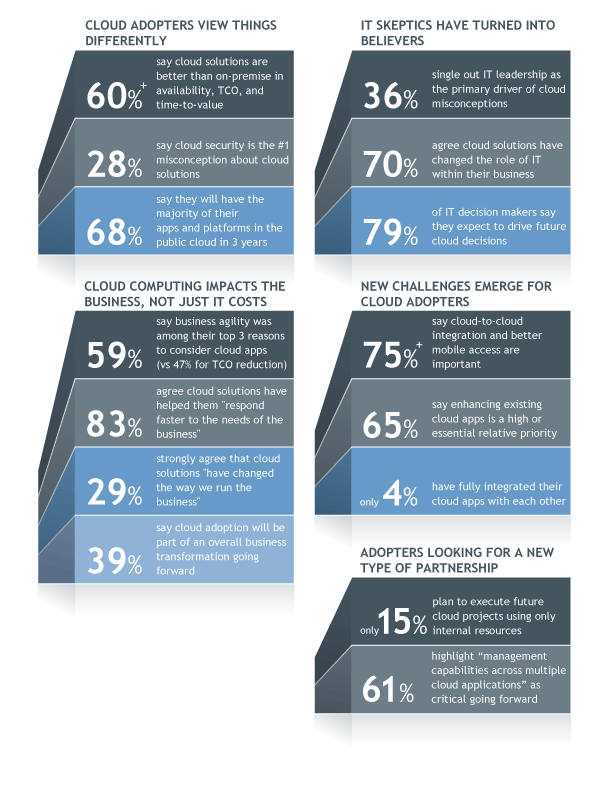 Source: http://thecloud.appirio.com/StateofthePublicCloudInfoGraphic.html