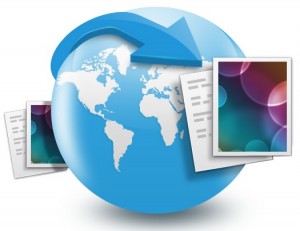 The advantages of storing your photos in the Cloud are simple and clear: they offer security since your photos will be safe, sound, and accessible even if you lose your device or PC, and there's also the added bonus that they come with various organizational and social tools that allow you to share your photos with friends and family members. Here are some of the more famous photo-sharing and storage sites:
Flickr
Flickr is one of the older dedicated photo storage sites around, and one of their key strengths is that the service is as simple or as complicated as you want it to be. People who just want to store their photos can just use it for storage, with only the organizational tools being used, but people who want something more can take advantage of other features, such as social media extensions and even basic editing and manipulation.
The downside to Flickr is that the free account it offers may not be enough for people who want the best quality for their photo collection, since the free account compresses photos. In order to get support for RAW files, you need to upgrade to the Pro account.
Photobucket
Another oldie but goodie, Photobucket has been around longer than Flickr, and boasts of over 10 billion hosted photos. The service offers unlimited photo and video storage (provided that you don't exceed the file size limits), and includes Facebook integration as well as support for mobile. Like Flickr, Photobucket allows you to do some basic editing and photo manipulation via the browser or their Snapbucket mobile app.
The downside is that there's also a bandwidth and filesize limit that prevents you from using it for really high res shots. The bandwidth limit is only 10GB monthly, and once you exceed that, they lock your photos until the next monthly cycle. In order to get rid of the limits, you need to upgrade to a paid account, but even the paid account caps the filesize limit to 20MB, which is an improvement over the free account's 5MB limit, but still not enough for avid photographers who want to store large RAW files.
Shutterfly
Shutterfly recently acquired Kodak Gallery and its users, which made it grow to be one of the largest photo sites that focus on printing and products like photo calendars and stationery. The main selling point of Shutterfly is the unlimited storage, which lets you upload as many images as you want without any cost. They also provide extra tools for editing and have support for iOS devices.
The disadvantage of Shutterfly is that while you can store full resolution photos, you are only allowed to redownload compressed versions. If you want the original files, you need to order (re: pay for) a CD.
Picasa Web Albums
Picasa is one of Google's flagship products, and is integrated with Google+. It allows sharing, photo editing, album organization, video storage, and even desktop extensions for your photos.
Users can upload photos that are 2,048×2,048 pixels in resolution as much as they want, but photos that are larger than that are limited to 1 GB of storage. So if you're a photographer who needs to save really large, full resolution pictures, you'll have to shell out $2.49 per month for 25 more Gigabytes of storage.
Also read our recent coverage on this topic: "The Cloud, Your Photos, and Your Children"