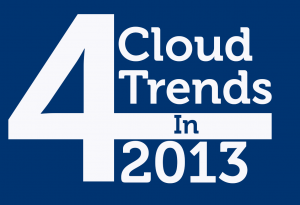 by Erik Grueter
Cloud computing is set for a number of big shakeups this year. The big story is in the effect these changes will have on smaller businesses. Public clouds that can be accessed cheaply and without a big IT overhead are likely to be chosen by small, developer friendly companies. Big data is also more accessible than ever thanks to new analytics and data mining technologies.
Several new cloud security trends are also emerging. The cloud will enable small companies to access powerful application security technologies through new subscription models. As we will see, this innovation couldn't have come at a better time, because the cloud isn't just benefiting the good guys.
Public cloud computing will defeat internal clouds.
There is not much of a chance that an internal cloud can possibly provide the same computing power as a huge public cloud going forward. In the words of CIO magazine:
"Public clouds enable rapid resource access, high productivity and inexpensive development. Developers will avoid or evade anything that does not deliver " –CIO.com
Looks like Google and Amazon web services are stealing the hearts and minds of developers. Compared to large public clouds, private clouds created by companies don't really seem like clouds at all, but rather a form of virtualization: nothing but virtual machines shared by a collection of employees.
These private systems lack the ability to operate without a dedicated IT team. This makes adoption of private clouds less realistic for small businesses. Private clouds are simply more expensive and less flexible than the alternative. As a result, private clouds are not likely to grow in popularity this year.
The cloud will greatly increase the power of malicious attacks
There are a growing number of threats associated with cloud computing. The truth is the exciting speed and scalability of the cloud does not only put power into the hands of the good guys.
Gone are the days when a hacker had to wait days or weeks to infect a critical mass of computers before launching a big attack. Distributed Denial Of Service (DDoS) attacks would employ thousands, even millions of computers infected with a virus. These computers would be tasked to perform a specific action on the same web application, forcing a site to shut down due to a volume of requests too great to handle.
Today's hackers no longer need to wait to infect thousands of computers before they launch large scale attacks like these. Cloud services already employ a huge number of very powerful servers. These server farms can now be used to accomplish the same type of attacks much more quickly and effectively.
Application protection delivered from the cloud will take hold.
Cloud Application Protection: This exciting new technology enables companies to scan and protect the source code on web applications. Application protection repeatedly tests an application to see if changes in code were made, preventing hackers intent on putting their own malicious code into applications.
Application protection like this has been around for some time. But what is unique about the trend in this industry is that these protection tools are now cloud enabled, and operating on a subscription basis.
Small companies who develop and procure software normally would not be able to afford a complete application testing software package or have the internal resources to run the tests required to keep their application safe. Cloud delivered software as a service application are changing this. Now smaller companies can reap the rewards of protected applications at a fraction of the cost, getting exactly the right amount of security for their needs.
Move over big data, say hello to smart data.
We have all heard of the term "big data" it refers to the huge amount of information being produced by our collective cloud of computers. This data is getting bigger every minute: over the next sixty seconds, 204 million email messages, 100,000 tweets, and 48 hours of new video will be sent over the internet. That is a huge amount of data.
All this data is becoming too much to process. The number of spurious correlations (misleading and meaningless connections between data points) is vastly increasing with the number of devices, files, and interactions occurring in the cloud. Luckily "Smart Data" has emerged to make sense of this huge pile of data, whilst avoiding some of the pitfalls associated with spurious correlations.
This smart data is created by algorithms that can cut down data to its most important points, grading information's usefulness by its age for example. Even without employing these algorithms, companies big and small can measure an increasingly large number of variables that actually matter to their businesses. The increase in analytics tied to website interactions, customer behavior, and even data and documents is greatly increasing business productivity.
Erik Grueter is a marketer at docTrackr, a document security software company that empowers businesses to put the protection of important data first with powerful and analytics software. Follow them on Twitter for security news. @doctrackr