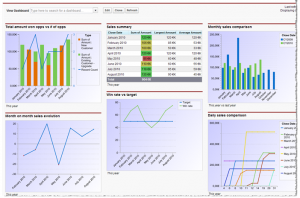 Salesforce.com recently redesigned the application's report and dashboard builder with new functionality including drag and drop fields, report preview and much more. For many years Salesforce's reporting and dashboard builder received a lot of criticism and complaints from users for being below standard, especially compared to other CRM solutions like Netsuite and Siebel on-demand. Over the last few years, the company focused on  improving other areas in the application and did not do any major upgrade to the area of reporting until this year. Users mainly relied on purchasing apps from the Appexhange to meet their reporting needs.
Report Builder
The new Report Builder gives users the ability to:
– Drag and drop the fields they need to see in the report
– Change the order of the columns and the format of the report
– Change the report properties
– Add the filtering criteria
All from a single view without having to navigate through multiple pages.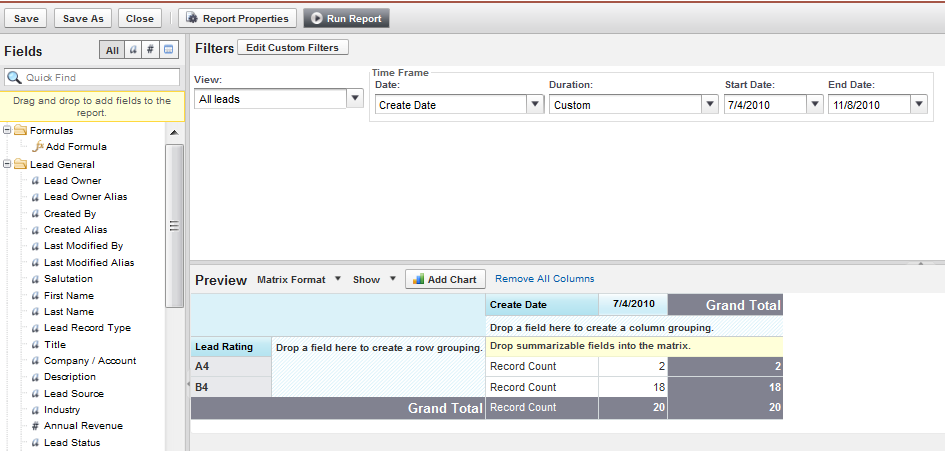 Limitations that still exist include: the inability to report on multiple related objects from a single report; instead one has to select prebuilt custom reports types which have 2 or 3 related objects (see image below).

Salesforce.com Report Builder Tutorial
Dashboard Builder
The new Dashboard builder has improved in much the same way as the report builder. All the pre-existing functionality can be access from a single view along with drag and drop features.
Although the Dashboard improvement is dramatic compared to what it used to be, it still has its limitations. Examples of such limitation: users can only add up to 20 reports in a single dashboard; and a report added in a table format cannot have additional summaries or metrics without having to create a new report to show the summary of a table. These limitation are yet to be addressed but in the mean time the majority of users continue to rely on apps and other vendor solutions that integrate with salesforce, for their dashboard and reporting needs.