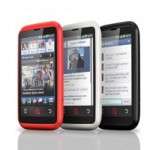 Mobile phone manufacturer, INQ Mobile UK, in collaboration with Facebook engineers, rolled out last week a new generation of  Android mobile phones loaded with a Facebook functionality for a whole new Facebook mobile experience. The new devices will enable savvy Facebook users to connect, chat and message their friends on Facebook right from these mobile phones. The two devices, which will first debut in the UK and then migrate to the US, are the The INQ Cloud Touch and INQ Cloud Q.
The button links into all of Facebook features, users of these mobile phones can now bypass the traditional sms system and can carry out live chat, send messages to friends, and perform real-time personal and business updates. Users can also in real-time check into their favorite Facebook Places, create and update Facebook events. With a single sign on, users automatically share their credentials with Facebook's third party applications.
The Facebook featured mobile phones, is a new form of Cloud Computing, and can potentially revolutionize our daily communication with peers and colleagues.
The Facebook mobile feature presents a positive impact not only for users that are constantly connected with their social network but also for businesses in view of the growing usage of Facebook as a marketing tool.