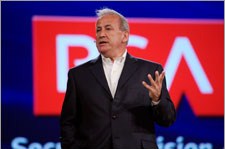 At the RSA conference 2011 opening Keynote on February 15th, Art Coviello, Executive Vice President of EMC and Executive Chairman of RSA, presented the essential strategy on how to get organizations to trust the cloud for deploying mission-critical applications. He stressed that the cloud can meet all business processes security and compliance requirements, even the strictest regulatory requirements such as PCI compliance. He also added, that the responsibility of choosing the right Cloud secure service lies on the business due diligence of cloud offerings, and innovating existing technologies to get to the desired cloud environment.
Coviello emphasized, that virtualization and cloud computing goal is to get the right information to the right people over a secure infrastructure that can be managed and controlled.
He added that Security must support three principles that will result in higher levels of visibility and control and in turn create organizations' trust in the cloud.
Security should revolve around protecting sensitive information and transactions rater than the infrastructure
Security must be distributed around the cloud, means building the security into the infrastructure and the applications
Security must be dynamic and adapt to changing environments, i.e. employs real-time analytics to predict security threats and remedy.
Coviello, was joined on stage by Richard McAniff, VMware Chief Development Officer and Co-President, Products, who demonstrated how a cloud technology (VMware vShield™) combined with security solution (RSA® Data Loss Prevention (DLP)), sets security into the virtual infrastructure and automates management, so organizations can easily setup and manage a secure trusted cloud