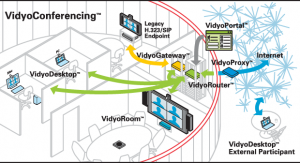 Vidyo launched today an Internet-based videoconferencing architecture that can scale to tens of thousands of users on a variety of mobile devices, such as smartphones, tablets, or laptops.
The Cloud Edition of Vidyo offers an easily deployed, low maintenance infrastructure comprised of a network of VidyoRouter appliances to further enhance the Vidyo conference experience, optimize WAN bandwidth utilization, and expedite ROI.
VidyoRouter allows users running Vidyo conferences to span multiple networked VidyoRouters, enabling as many concurrent multipoint connections as there are routers deployed, according to the company.
Vidyo demonstrated last week at the Mobile World Conference in Barcelona, the use of its VidyoRouter to deliver live 4G multi-content gaming between Barcelona and the United States.
Cisco is a major competitor to Vidyo because it produces high-end videoconferencing between corporate meeting rooms in different locations. But Vidyo is trying to grab market share from Cisco  by delivering enterprise-level videoconferencing at a fraction of the cost. Where a Cisco system can run tens of thousands of dollars, each VidyoRouter costs about $6,000.
"VidyoRouter Cloud Edition is our response to the steady increase of globalized enterprises and the growing demand from service providers who offer video communication and collaboration," said Ofer Shapiro, CEO and co-founder of Vidyo.