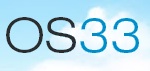 OS33, an IT-as-a-Service Delivery Platform for MSPs, announced today the latest update to its OS33 Platform, including features such as Cloud Printers, enhanced Cloud File Manager, and usability enhancements.
OS33 is pushing the boundaries of its cloud platform for end-users and MSPs by building functionality to address their needs.  Alex Osipov, Director of Software Engineering at OS33 says "End-users are no longer willing to tolerate data and applications that are tied to a specific Windows-based silo.  Every IT professional needs to come to terms with that fact. This change requires new approaches and tools to enable people to do their jobs.  As an industry we must adopt these new tools and approaches without letting go of the enterprise-level services and guarantees that every business requires.  Tools that unify and bring together the IT cloud will pave the way to a Connected Enterprise."
Cloud Printers:  is a new feature which gives users the ability to print cloud-based files to any corporate printer via any web browser on any device.  Whether working from the office, from home or even the airport, print on the go using an iPad, iPhone or Android device by sending documents to any networked printer.
Cloud File Manager allows users to view, edit and save hosted documents in any web browser using integrated Microsoft Office Web Apps or by accessing them from hosted versions of Microsoft Office.  While most solutions require users to download files locally, edit them, save them and re-upload them, OS33 allows users to update cloud-based files from the same browser window.
Jacob Kazakevich, OS33 President  says "Companies of all sizes are aggressively looking at cloud-based solutions to improve user experience, increase productivity, and cut costs. This latest set of updates show our continued commitment to the Service Provider community using OS33 to stay ahead of the curve in Cloud-based IT delivery."
The company is offering a no-obligation demonstration of OS33, sign up here: http://www.os33.com/learn-more/schedule-a-demo/.