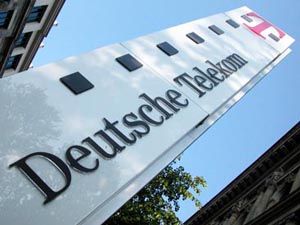 Deutsche Telekom AG's T-Systems IT is trying to influence European regulators to forge a certification system for German cloud operators to protect their data storage against the US government.
T-System's IT is planning to market their cloud product by banking on their security features that will guard its servers from other Internet cloud users. This information was received from Reinhard Clemens, the division's chief executive officer of Deutsche Telekom AG's T-Systems. This feature will also include protection for Internet users against the US Patriot Act, which allows the UG government access to the database.
Clemens said "The Americans say that no matter what happens I'll release the data to the government if I'm forced to do so, from anywhere in the world. Certain German companies don't want others to access their systems. That's why we're well-positioned if we can say we're a European provider in a European legal sphere and no American can get to them."
Telecommunication companies and Deutsche Telekom are currently marketing their cloud services on the promise that cloud computing is a secure way to do business strategies and outsourcing their server's data storage.
The government certification seal will secure the cloud platform for T-Systems placing them on the forefront of the global market. This will give them the necessary leverage against their competitors, which include Cap Gemini SA and Atos SA. Plus, it will gain more popularity compared with its US rivals such as Microsoft Corp., International Business Machines Corp. and Hewlett-Packard Co. "A German cloud" would be a "safe cloud," said Clemens. The German government security seal is now being studied by European Union officials.
Earlier this March Deutsche Telekom sold its T-Mobile USA for $39 billion dollars to AT&T Incorporated. The company thought it was a hasty move, so Deutsche Telekom is trying to recover the deal. Deutsche Telekom got its control from the move by the Justice Department suing both T-Mobile and AT&T saying that the company merger will monopolize the telecommunications business in Dallas.
A Gartner research may have pulled the trigger for Deutsche Telekom to reconsider their decision on T-Mobile since a projected $148.8 billion revenue surge will come from cloud services as expected in 2014.
Another challenge that Telecommunications companies are faced with is how to convince Internet users on the reliability of the cloud platform. This issue was further emphasized when in May of this year; Amazon experienced a huge power outage in their cloud services that made users doubt the reliability of the cloud framework. Google also suffered the same fate when they failed to deliver timely emails to 30,000 LA employees.
These issues however, cannot stop Cisco and Apple; in fact, the former even urged the US government to speed up the uptake of cloud computing. Apple also took this chance and capitalized on introducing their new data storage for music and other files using the cloud, driving away the clutter from personal PC's.
Neelie Kroes, a European Commissioner asked providers and vendors to participate in the cloud computing plans to speed up the drafting of the technical and commercial guidelines to be used.  Kroes said that "The cloud is critical to Europe's growth." This is why the government is taking all the necessary steps to make their legal framework beneficial to both the users and the business sector.