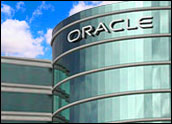 Oracle said it plans to buy online customer service company RightNow Technologies for approximately $1.5 billion. The world's second- largest software maker is looking to add software that helps companies serve customers using call centers, Internet and social networks. This would be Oracle's biggest purchase since Sun Microsystems Inc. last year after introducing the Oracle Public Cloud, which delivers software online via cloud computing, to spur demand for its programs.
Oracle said today it would pay $43 per share of RightNow, a 20 percent premium over RightNow's closing price on Friday.
At Oracle OpenWorld in early October, the company's executives said that computing power and software stored in the "cloud" and streamed to customers over computer networks would be at the center of the company's strategy and outlined plans to get into cloud computing, big data and other efforts such as NoSQL databases.
Thomas Kurian, executive vice president of Oracle Development, said that Oracle is "moving aggressively to offer customers a full range of Cloud Solutions including sales force automation, human resources, talent management, social networking, databases and Java as part of the Oracle Public Cloud."