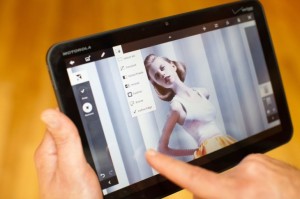 This week Adobe unveiled six applications designed with a touch interface that will run first only on tablets using Google's Android operating system.
The Touch Apps for the Android market, which include the first touch version of Photoshop, are bound together by a service called Creative Cloud that synchronizes creative work across a broad range of devices.
The apps address multiple areas of the creative process including image editing, ideation, sketching, mood boards, wireframing, and presenting all of that work to clients.
With this release, Adobe is trying to move customers away from a one-time purchase of its Creative Suite into monthly subscriptions. The company expects that by 2015 half its revenue will come from subscriptions – representing 800,000 users and over time, the company expects 100% of revenues from its digital media division to come from subscriptions.
David Wadhwani, senior VP and GM, Digital Media Business Unit, Adobe said "Adobe Touch Apps will transform how people use tablets – from mere consumption devices to vehicles for expression and creativity. Our touch apps will be a key component in Adobe's full Creative Cloud offering, coming in 2012."
Here a quick look at the new apps:
Adobe Photoshop Touch
With Photoshop Touch you can transform images freely using core Photoshop features in an app custom-built for tablets.
Adobe Collage
This app lets you capture ideas and concepts by combining images, drawings, and text into conceptual moodboards.
Adobe Debut
Debut is a presentation tool that displays tablet-compatible versions of Creative Suite assets, including Photoshop layers, Illustrator art boards, both JPG and PDF files, and more.
Adobe Ideas.
Similar to the app already available for iPad and iPhone, Ideas for Android is a vector-based drawing app where you can design virtually anywhere using vectors, layers, and color themes
Adobe Kuler
Kuler is an app for generating and sharing color themes and swatches. Use Kuler to create, explore, download, and share color themes that can inspire any design project.
Adobe Proto
The App is for prototyping mobile apps and websites. Gestures and rough shapes are translated into page elements, such as headers, navigation menus, or body text–and are linked to other pages to create an interactive wireframe.