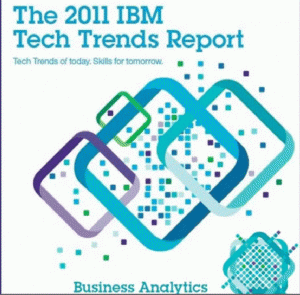 The IBM's 2011 Tech Trends Report was released this week which highlights "significant enterprise technology trends" for the year ahead. Around 4,000 IT professionals were surveyed from 93 countries and 25 industries to garner their views on future IT trends.
The report studied how businesses are adopting, using and planning to use cloud computing, mobile computing, social business and business analytics.
According to Jim Corgel, general manager ISV and Developer Relations, IBM "The results are clear. Mobile computing, cloud computing, social business and business analytics have gone beyond niche status and are now part of any modern organization's core IT focus. IT professionals who can develop the skills needed to work across these technologies will be ready to meet growing business demand in the coming years."
Business Analytics
The study found increasing use of business analytics where software is being incorporated in almost every business process within organizations. The survey found that 42% of respondents said analytics was in demand for software development and had the highest adoption tendency (90%) when compared with other technology areas. Also, half of those not currently using analytics plan to within the next 24 months, to increase automation, streamline processes and do more with less in faster time.
According to IBM, "Whether it is the powerful analytics capabilities in IBM Watson that IT professionals feel will transform the education and healthcare industries, or the need for open source analytics skills, the trend is clear… businesses are focused on analytics now and for the future."
Developers looking to grow their skills should take note that the majority of respondents said open source platforms such as Apache Hadoop and Linux will play a key role in the future of application development.
Mobile Computing
Mobile was the second most "in demand" area for software development with three in four survey respondents currently working in mobile computing, growing to 85% within the next two years.. Android emerged as the top platform for mobile application development; 70% of respondents are expected to develop for the Android platform over the next 24 months, while 49% plan to develop for iOS.
Cloud Computing
Cloud is becoming more entrenched in the technical landscape – 75% of respondents said that over the next two years their organizations will begin to build cloud infrastructure and in the next 24 months developing new applications will be the top cloud adoption activity, overtaking the current top investment areas of virtualization and storage.
Social Business
The survey showed employee collaboration, efficiency in locating people and resources, and idea generation and sharing as the top three motivators for internal deployment. The three top social business capabilities that companies are utilizing today are file sharing, blogs and forums.
However, social business adoption differs between countries – India is already embracing social business adoption very strongly (57%), followed by the U.S. (45%) and China (44%). Russia shows the strongest resistance (19%). 48% of respondents said "adoption by employee and/or customer" as a concern when adopting a social business solution.