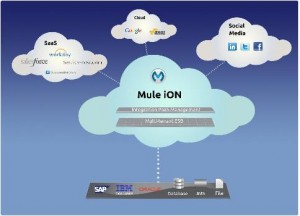 A recent study conducted by ThinkStrategies, a consulting services and MuleSoft, a cloud integration service provider showed the top five factors that will impact SaaS and cloud vendors on the rising cloud computing market.  One of the top challenges facing SaaS and cloud companies is integration. This was shown in the responses that said 90% of the cloud provider respondents believe that integration is a key feature to win more customers for the company.  The same respondents, however, said that integration is key, but also the most time-consuming and complex process in the whole implementation program.
Managing Director of THINKstrategies and Founder of the Cloud Computing Showplace, Jeffrey M. Kaplan said, "The success of the first wave of SaaS/Cloud companies has sparked a 'Cloud Rush' affect which is attracting a proliferation of players to enter the market, ranging from fledgling start-ups to the biggest vendors in the hardware, software and services industry. The results clearly show that leading SaaS/Cloud vendors must incorporate integration solutions into their go-to-market strategies in order to succeed in today's marketplace."
The top five factors that will impact the success of SaaS and Cloud vendors due to integration include:
Integration is critical to win new customers – 88% of SaaS and Cloud vendors stated that integration is important/extremely important to win new customers for them.
Integration use is extensive – 52.8% of SaaS and Cloud vendors agreed that more than 50% of their users need and require integration.
Integration is the biggest challenge in SaaS and Cloud sales – 87.7% of the respondents said that the biggest obstacle to SaaS and Cloud sales is integration user requirements.
Integration's time-consuming effects – 79.3% of the respondents from SaaS and Cloud vendors agreed that integration requires the most time in implementation process (highly time-consuming or somewhat time-consuming).
Integration is a fundamental element for SaaS – 62.5% of SaaS and Cloud companies believe that integration is vital to their cloud solutions.
As cloud computing continues to thrive, customers now require more integration features that put more of the burden to SaaS and Cloud companies instead of the users. This trend can be either an advantage or disadvantage for SaaS and Cloud providers in terms of sales opportunity or challenges.
The said study also discussed in detail a guide for SaaS and Cloud companies in choosing integration features and solutions. The same report also introduced the "integration platform-as-a-service" (iPaaS), which will benefit both SaaS and Cloud vendors as well as end users. iPaaS will provide a complete cloud platform that will allow Saas companies to offer seamless integration services.
VP of Marketing for MuleSoft, Mahau Ma said, "As SaaS adoption rises, and as the number of SaaS companies continues to increase, issues with integrating these applications will remain at the forefront. SaaS/Cloud vendors have to understand that the integration responsibility now rests on their shoulders, not the end-user, and will become a significant inhibitor to their business."