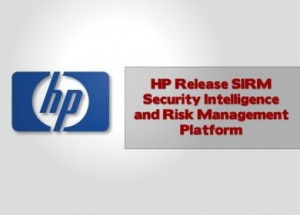 Hewlett-Packard (HP) rolled out its new security products at the last RSA Conference, which included a new risk management tool to assess IT assets, threats and operations to speed up remediation actions. The new Security Intelligence and Risk Management (SIRM) platform will serve as baseline information for IT people to gauge vulnerabilities and risks for the company across different IT platforms like mobile, cloud and traditional environments.
HP Vice president and general manager of Enterprise Security Products, Tom Reilly said, "Today's attacks are so complex and difficult to detect, a traditional approach to security just can't provide the level of insight necessary to secure the extended enterprise. The HP Security Intelligence and Risk Management platform offers visibility into diverse security environments as well as contextual intelligence to proactively manage risk from applications to network and IT governance."
The baseline security of an organization ideally goes through a process that includes decisions made  by the chief information security officer (CISO) then approved by the CIO, which is later presented to the management and chief financial officer. The HP EnterpriseView solution will come with its heat-map as a huge benefit in terms of a score-based real-time risk management analysis to help in the decision making process. The HP EnterpriseView solution will bridge the gap between IT operations and security solutions. This product can also check the company's compliance in the implementation of Payment Card Industry (PCI) standards.
Vice president of product solutions marketing for HP enterprise-security, Michael Callahan said, "We think we can have a CIO live up to a risk-level agreement."
HP EnterpriseView is engineered to work best with other HP products like the HP TippingPoint, ArcSight and Fortify, plus it has less compatibility issues with third-party providers like Symantec, McAfee, Qualys and Nessus. HP EnterpriseView is to be released anytime this month.
Other HP products that were also rolled out in the RSA Conference include:
HP Mobile Application Security: HP's Fortify – a security system that efficiently protects the mobile Apps ecosystem using line-of-code precision that works with Google (TM), Apple iOS and Android.
HP Application Security Monitor: AppSM – a security system that allows IT professionals to view threats in real-time, so that deployment of monitoring and technical custom programming is reduced significantly. This product uses Java/.Net applications to search, analyze and report threats.
HP PCI Cloud Compliance Stack – ensures that customers meet compliance conditions set by providers whether they are using virtual, physical or mobile cloud platforms. An example of this is the Card Industry Data Security Standard (PCI-DSS) compliance requirements in making address payment systems.
HP Cloud Connections Partner Program – allows centralized visibility of user activity within the SaaS (Software-as-a-Service) platform, which makes reporting speedier.
These new HP products will ensure that enterprises receive an extended application security from across devices and platforms. HP uses dynamic application security testing (DAST) and static application security testing (SAST) to address mobile and virtual security issues that frequently receives complex attacks as a result of the risks involved with cloud computing adoption.