By: Matthew Smith
On average everyday there are 22,200 blog posts written about the topic of cloud computing.  You would need 444 hours if you tried to read every blog post from one day.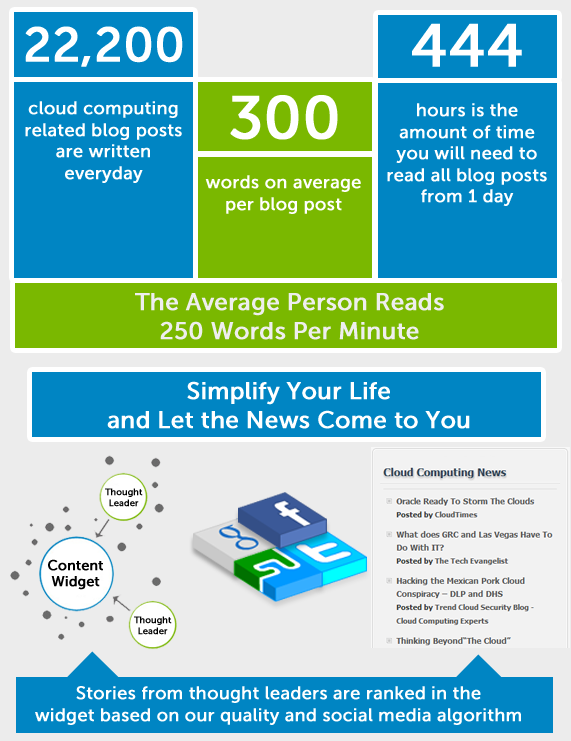 If you are like me your calendar is already so full you don't even have 30 minutes to check the latest news. Therefore we at Dell have been working on a content aggregator that pulls the most important cloud computing news into a single location (including CloudTimes).
We are happy to bring you the Cloud Computing Connect Widget. The widget takes the best article summaries and titles from cloud computing's thought leaders and brings it to one central location. Once you install the widget on your WordPress blog (other platforms coming soon) you can begin seeing brief summaries and titles from cloud computing thought leaders directly on your blog. Never again will you have to run around looking for cloud stories.

Here's How the Widget Works
The widget has a special crawler that goes to a pre-set list of cloud computing bloggers that were selected based on quality, overall knowledge, and freshness of content. We wanted to ensure we served the best freshest content directly into the widget.
The crawler then takes a brief summary and title of the latest article and brings it back to the website that installed the widget.
Articles within the widget are then stack ranked based on the total amount of social shares it receives. For example if a CloudTimes article receives 35 tweets and someone else's article within the widget receives 15 tweets, the CloudTimes article would outrank the other. This algorithm built into the widget helps the installer to see the most popular stories of the day.
Customization of the Widget
Each widget installation with customize and adhere to your WordPress theme.
You can fully customize your widget installation within your WordPress admin panel.
You can select which cloud computing thought leaders you would like to follow and those you would not like to follow.
Each installation allows you to add your own RSS feeds or even import your own blogroll.
We are always looking to add additional thought leaders to the widget. If you think your blog has the right stuff then leave a comment or visit this page and submit your blog on the left side of the page.
Visit this page to view the WordPress plugin and install: WordPress Installation Link