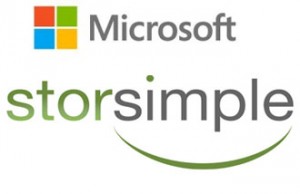 Microsoft has recently announced its acquisition of Cloud-integrated Storage solutions leader StorSimple. With this new addition, Microsoft is said to help its users in embracing hybrid clouds efficiently. According to Microsoft's Server and Tools Division Corporate Vice President Michael Park, StorSimple's storage solutions can help its customers in integrating cloud storage with on-premise storage through intelligent management and automation. Customers who need the clouds for their data archival, management, and storage needs can be efficiently serviced by the new company acquisition.
Established by Guru Pangal and Ursheet Parihk, StorSimple is being tapped as the premier storage system of Microsoft's Azure thereby competing with Amazon storage. It is interesting to note that prior to the acquisition, StorSimple had also partnered with Amazon. According to Microsoft, it doesn't intend to change any prior partnership of StorSimple with other cloud providers. The terms of the acquisition, however, were not disclosed.
Cloud storage became popular in 2009 and was pioneered by Amazon's Simple Storage Service and Nirvanix. Today, other cloud storage players include Rackspace and Microsoft. Microsoft's acquisition of StorSimple can be beneficial. StorSimple can bring in the necessary enhancement to Microsoft's Cloud OS and potentially increase Microsoft's client base because StorSimple has a whole roster of large companies as clients.
Microsoft still remains one of the best software suppliers today due to its various product offerings. It has continuously grown and is currently making a head start towards cloud computing. Its investments have proven to be of solid standing and are expected to lead Microsoft's growth thereby enhancing possibilities of greater gains in market share.
In 2011, StorSimple was awarded the Microsoft BizSpark Partner of the Year and passed the very stringent process to become "Certified for Windows Server 2008". Storage Magazine had named StorSimple appliances as "Products of the Year for 2011" in the Storage Systems class. The most Microsoft-oriented cloud storage provider, StorSimple first sold its appliance as a basic storage product for Microsoft's SQL Server and Exchange. Then, it provided archiving and backup applications but still connected with Microsoft, especially with Windows Azure.
Combining spinning and flash disks, the appliances of StorSimple offered local data cache which is also stored in the clouds. StorSimple's appliance can cache a whole volume when applications require low storage latency. Real-time backup is also provided by the cloud storage. Customer data is kept secured due to the appliance's strategy to compress, de-duplicate, and encrypt data before moving it to the clouds.