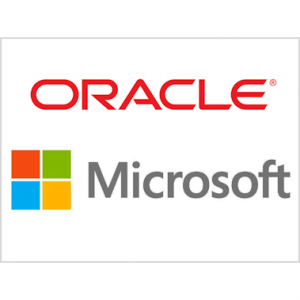 For several years since the rift began, Microsoft's Bill Gates and Oracle's Larry Ellison always land on the news saying loathsome words to each other, and they never miss a chance to pick a "word fight" on the headlines. But recent developments have turned the tables 180 degrees when they both finally realized that they can create bigger things together.
It started as small, discreet and non-formal meetings that blossomed like a love story of former foes turned allies. The big turn of events was made formal when they announced last June 24 that Microsoft and Oracle will collaborate in delivering better cloud solutions to the consumers and providers.
This was followed by Oracle's statement that it will partner with two other cloud giants, Salesforce.com and NetSuite. Salesforce is a pioneer in cloud-based services that provides marketing and customer relations systems and business hosting. NetSuite, on the other hand, delivers cloud-based software to small and mid-sized businesses.
"You shouldn't think of this as a date. You should think of this as us continuing to integrate our products closer and closer together. Think of this almost as rolling thunder as opposed to an event." Mark Hurd, Oracle president said of the NetSuite tie up.
A brief history of the heated feud began in the 1990's when Oracle decided it will go for an alternative to personal PCs. The move was to limit the consumer's dependence on Microsoft Windows OS. This was retaliated by Microsoft's venture to compete with Oracle's core business of database systems. The hostility since then got worse to worst as the two giants compete in many areas of the business.
The newfound partnership was fueled by the speed of the business consumer demands in favor of more cost-effective and efficient cloud-delivered applications and services. Currently, Oracle and Microsoft have its own cloud offerings but are both faced with giant competitors such as Google, Amazon Web Services (AWS) and IBM, which recently acquired SoftLayer Technologies.
To better plan its cloud offerings, Microsoft and Oracle teamed up to prove the consumers that it can offer a strong alternative alongside these giants. In fact, before the two went public, they already made sure that Oracle's database software can run seamlessly with the Microsoft OS. Moreover, Oracle announced its commitment to ensure that its other software like Java tools and open source Linux will run smoothly with Microsoft's Azure. In exchange, Microsoft will go full blast in marketing Oracle's database and other cloud products to its existing users.
"It's about time, and we're really glad to have the chance to work in this much newer and more constructive way with Oracle. The partnership has an immediate benefit to customers of every size and shape." Microsoft CEO, Steve Ballmer said.
Analysts say that the move was very timely because Oracle's revenue was dry and flat last year, while Microsoft was believed to be lagging behind from its competitors in terms of its smart devices and cloud services. So the partnership with Oracle will make Microsoft focus more on its cloud platform development.
Together, the new partners want to convince the cloud consumers that they are the perfect match. Plans include offering its customers to stick to their existing middleware and database when the rest of the businesses are migrating to the cloud.
"This deal gives Microsoft clear competitive advantages against two of its top rivals. It bolsters Microsoft's efforts to compete with VMware, the market leader in virtualization software, and gives Windows Azure near-equal position against Amazon Web Services in the cloud platform wars," said James Staten, a Forrester Research analyst.