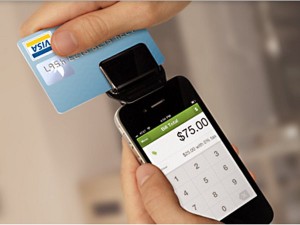 By Francois Bondiguel
The battle to dominate the mPOS space continues. With more than $3.6 trillion in credit and debit card transactions processed annually in the US alone, the race to get the biggest portion of this extremely profitable pie is definitely on.
The three major contenders right now are PayPal, Square, and Groupon, with each company launching its own mobile point-of-sale system in order to encourage businesses to replace their traditional cash registers with a cloud-based POS.
At first glance, it looks like PayPal, Square, and Groupon are all pretty much offering the same thing: an mPOS solution for businesses. However, each payment processor has made huge efforts to distinguish themselves by means of payment waivers and incentives.
To give you a better idea of what these three companies are offering, below is an overview of each of their mPOS solutions:
PayPal: Trade in your cash register for PayPal Here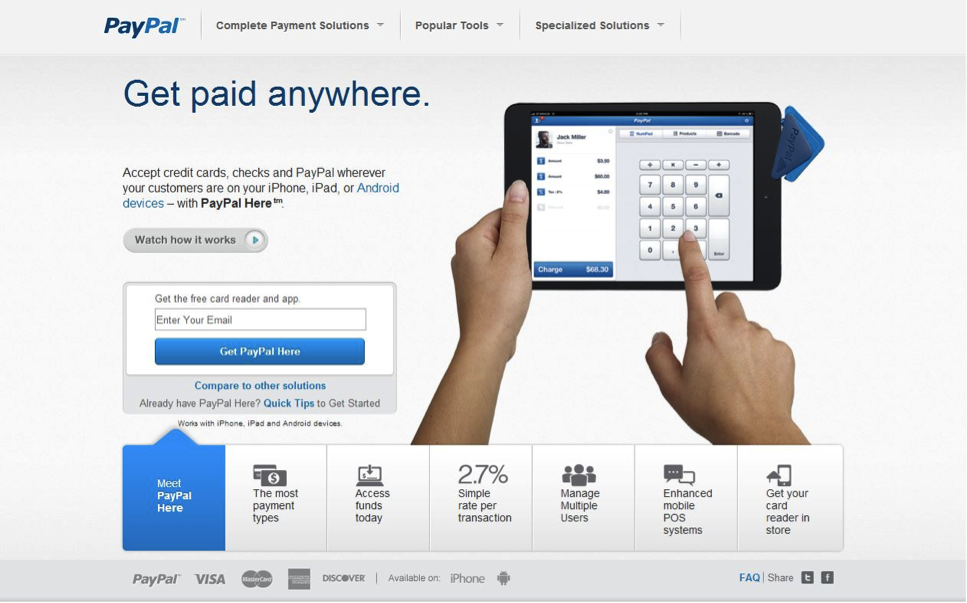 Meet PayPal Here, the payment giant's foray into the mPOS realm. This point-of-sale software solution enables retailers to process transactions through PayPal. What's interesting about it though is that it comes with pre-integrated partner solutions such as ShopKeep, Vend, and ERPLY to give retailers more choices regarding their POS hardware or software.
As an incentive for upgrading to this PayPal-powered solution, the company is implementing its "Cash for Registers" program where it offers to waive all qualifying transaction fees until January 2014. Do note that you will need to purchase at least $450 worth of eligible hardware to qualify for the incentive.
It gets better. According to PayPal President David Marcus, participating businesses will be given a chance to get in front of the payment giant's wide user base. Marcus wrote on the PayPal blog, "In addition to this great offer, we will make participating businesses known to our 55+ million US (128 million worldwide) and growing customer base, and drive meaningful incremental business to them, stimulating the vibrant small business community in America."
Unique Offers or Capabilities: Integration with other POS vendors and no transaction fees for the rest of the year plus marketing to PayPal users.
Square: Reinventing the register with Stand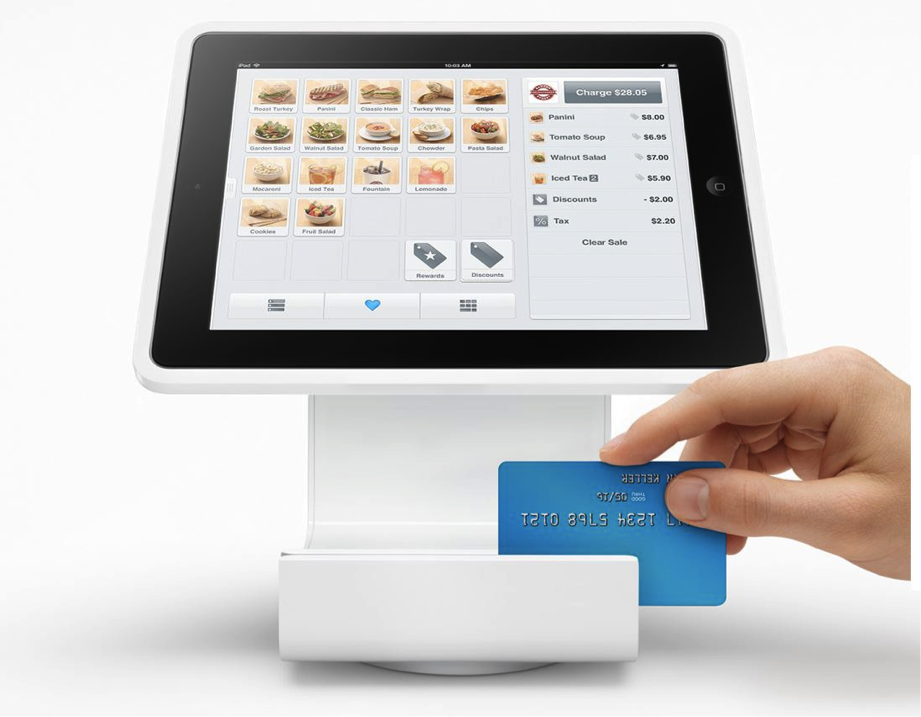 Then there's Square Stand, a sleek piece of hardware that lets you lock the iPad to the stand and secure it to your counter. Square Stand has a built-in card reader and you can connect it to your cash drawer, receipt printer, and barcode scanner.
Retailers pay 2.75% per swipe, with no merchant account or extra fees. Funds are sent straight to your bank account.
Unique Offers or Capabilities: a gorgeous-looking stand with a built-in credit card reader for just $299. No additional fees, just a flat rate of 2.75% per transaction.
Groupon: Breadcrumb gives you a plug and play POS for your business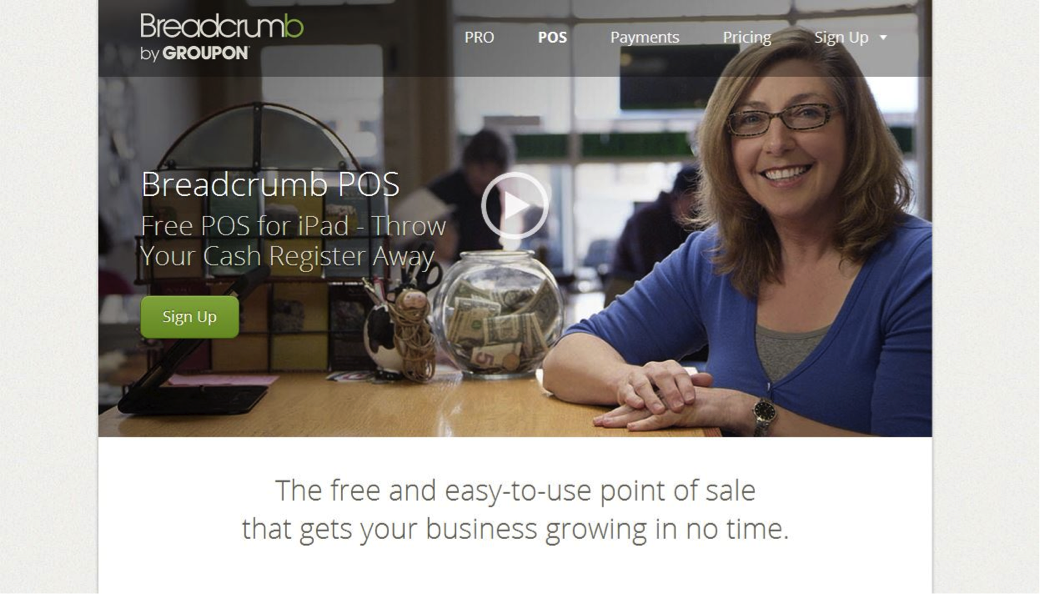 Groupon is urging retailers to throw their cash registers away and download Breadcrumb—its free app that gives merchants a plug and play POS solution. You just need to download the app onto your iPad, switch on your printer and connect your card reader.
Like its competitors, Breadcrumb also runs in the cloud so you can access real-time sales and reports via the app or website anytime, as long as you have access to an Internet connection.  In terms of processing fees, Breadcrumb charges 1.8% plus 15 cents per card swipe.
Unique Offers or Capabilities: Processing fees for the initial $5,000 of credit card transactions are on the house if you get a credit card reader for $15.
Who will win the mPOS war?
The answer to that is yet to be determined. There is however, one obvious casualty in the battle for POS dominance, and that would be traditional cash registers.
As more and more companies move their businesses to the cloud, those clunky cash registers that used to be so ubiquitous in the retail world are slowly being phased out.
The POS realm is in the middle of a huge transition, and while it isn't clear yet which company will emerge supreme, it's evident that the reign of the old cash register has officially ended.
And no one is more eager to see it go than PayPal, Square, and Groupon. As Marcus put it, the cash register is a "dumb device" and PayPal just wants to speed up its inventible route to irrelevance.
Groupon VP Mihir Shah expressed a similar view, and issued a statement mentioning that their company is more than happy to "help every local business replace their outdated cash registers with a modern, affordable, money-saving tool that allows them to save on credit card transaction fees and run their businesses better."
Square co-founder and CEO Jack Dorsey echoed this, saying that "Local business owners take as a given that they need an ugly, slow, expensive, and complicated point of sale system cluttering their counter." Square Stand on the other hand, "is elegant, fast, affordable, and easy to use."
Have you adapted an mPOS solution in your business? Which company do you think will dominate the space?
Francois Bondiguel is from Vend, the #1 point-of-sale software for retailers, with over 6,500 happy clients. As a partner in PayPal's Cash for Registers program, Vend also offers a PayPal POS solution that allows merchants to accept payments without the transaction fees through January 2014.