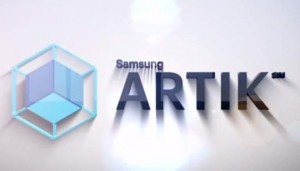 Samsung challenge Intel and Qualcomm with the announcement of three new chips aim at the Internet of Things market. Samsung also announced the launch of SmartThings Open Cloud, which will help developers create the applications using their connected devices.
The Korean manufacturer new Artik platform includes software, development boards, drivers, tools, security features and connectivity cloud, or everything you need to create innovative products and services for the IoT. The line Artik is composed of three SoC chips of different sizes. The whole family of modules, Samsung ARTIK, is characterized by the presence of built-in memory and high computing power as well as advanced safety technologies.
The smaller, Artik 1, measuring about 12 × 12 cm and is powered by a button battery. The chip integrates a dual core processor at 250 MHz, 4 GB of flash memory and a 9-axis motion sensor. It combines an MIPS32-based dual-core processor, 1 MB SRAM, 4MB Flash memory, power management, an encryption engine and a Bluetooth LE Module. It is designed for low-power devices, such as Bluetooth tags, beacons and wearable.
A clocked at 250MHz processor core takes care of demanding workloads while a low-power core with 80 MHz takes less compute-intensive tasks. In addition, the Artik 1 integrated 9-axis motion sensor with a gyroscope, accelerometer, and magnetometer. According to Samsung, it is intended for IoT devices like beacon transmitter, fitness tracker or smart bracelets.
The Artik 5 is manufactured in particular for smart home hubs. It has a dual-core processor on ARM A7 base with 1 GHz, 512 MB ​​of DDR3 RAM and 4 GB of flash memory. There are also several security features, wireless support (802.11b/g/n), and encoding and decoding of video.
The most powerful model Artik 10 will power, especially Home Server and personal clouds. It integrates an octa core processor at 1.3 GHz, 2 GB of RAM, and 16 GB of flash memory and can perform the encoding/decoding of 1080p video with 5.1 audio. These chips are already used in mobile products and soon will also be used in smart TV, household appliances connected to the Internet and in all SmartThings devices.
The company says, "These modules focus on device manufacturers and allow a manufacturer to easily create a connected device by using one of a line of ARTIK modules. The combination of ARTIK + SmartThings Open Cloud provides the necessary hardware, software, and services for device makers to build connected devices easily without having to build and operate the entire stack."
Like other manufacturers, Samsung also sets high hopes for the Internet of Things. Gartner analysts predict that the number of connected devices will rise to 26 billion by 2020, from 900 million in 2009. IDC expects that the IoT market will reach a volume of 3.04 trillion dollars by 2020.
Back in January at the Consumer Electronics Show in Las Vegas, Samsung had announced that 90 percent of all devices manufactured by Samsung – from smartphones to refrigerators – to connect to the Internet by 2017. However, the Artik chip platform aims not only to Samsung's own devices. Other manufacturer's processors are also integrating them into their products.