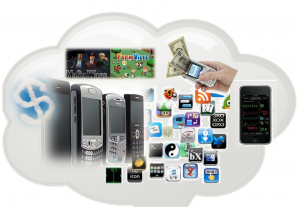 The third quarter of 2012 can be considered as the most unpredictable period for the mobile services. Huge changes included Google's decision to move to hardware market when it proposed a partnership with Motorola. Hewlett-Packard, on the other hand, shocked everyone when it announced it will discontinue production of phones and tablets that are running webOS. Everyone was astounded when Steve Jobs announced his resignation from Apple, who later passed away in October 5 of this year.
Other happenings included the government's antitrust lawsuit against AT&T in August via the Department of Justice for the former's acquirement of T-Mobile USA. In July this year, the Congress encouraged TV broadcasters to allow mobile providers control over wireless spectrum. This pushed Google and PayPal's launching of different versions of the mobile wallet.
While all of these issues were happening Google's Android and Apple's iOS continue to control the mobile market. No other rival is yet to match these two giants except for Symbian that almost made it, but quickly faded out of the scene.  Meanwhile, BlackBerry OS is scheduled to launch QNX phones and Windows Phone to be released by Nokia to leverage Microsoft's mobile OS.
Apple is still at the forefront with its iPad and no one has gotten any closer to it. To share with the iPad market, Amazon recently introduced Kindle Fire, which is designed to alter the tablet PC sales and push the Android apps.
Google's acquisition of Motorola for $12.5 billion surprised everyone. This move hopefully boosts Google's portfolio as it gains more than 17,000 mobile patents, and as it now controls both smartphone hardware and software.
Google plans to let Motorola as a stand-alone business while it allows the former to integrate all its apps and features with Android OS. Integration has worked well with Apple and Research in Motion; although Palm, Nokia and Microsoft continue to struggle, in spite, of control over their hardware and software.  Palm's WebOS did not make it very good while Microsoft's Windows Phone has not made any traction, so the latest is to have Nokia produce the Windows Phone handsets for Microsoft.
Even if Google acquires Motorola it still lags behind Apple's iOS. Good Technology report said that 65% of mobile users are using gadgets with iOS while Android has the other 30%.
The tie-up trend is also expected to reach the tablet market where Apple is still the frontrunner. Android with its Honeycomb is now ready to compete with the iPad line. iPad, which is currently sold at an entry level of $500 is a stiff competition for anyone to match, but Google is willing to accept a slight loss if only to boost their revenue from advertising campaigns.
There are, however, downsides to this take out with iPad as Google's partnership with Motorola will make it a sudden competitor of HTC and Samsung; mobile companies that have helped the Android to leverage in the market.
The problem here is if at any point Samsung gets threatened by Googarola it may just concentrate on its own bada OS instead of Android. The same thing can happen with HTC, which is currently carrying Android. If things get really bad all the other Android users may opt to just acquire WebOS, which is still a stable operating system instead of losing with Google.
Lastly, Google's biggest challenge so far is gaining approval from federal regulators on the Motorola take out due to the anti-trust issue. The Department of Justice has yet again filed another request for information about the deal. With the success, however, of Android everyone expects that after the trouble Google will still get the approval in the end.
Hewlett Packard, on the other hand, has dropped WebOS because of the $1.2 loss it had on the acquisition of Palm. HP suddenly announced it will halt manufacture and production of TouchPad and smartphone that are both running on WebOS. This was followed by HP's staffs that were laid off in September.
This is already the second fall for WebOS the first is with Palm and just recently with HP. Many said WebOS and Amazon was a natural fit, but the latter has kept out from its claim over Android, and instead, focused on the distribution of Kindle Fire. There is no doubt that HP can ask Amazon for any price for the OS, but Amazon believes that running their own OS will slow them down in the mobile market. So, Amazon invested and focused more with Android-run tablets and put up their own app store to support it. HP continues to lose huge amount of money as the day passes without a clear fate for the WebOS, which is to this day the biggest loser in the mobile OS industry.
The third quarter of this year created so much buzz as Steve Jobs announced his resignation as CEO of Apple. To Apple insiders, however, this was not something new as Jobs had called more days off from his office in the early months of the year. Jobs, though sick still remained the dedicated Chairman of the Board until his death later this year.
Everyone was shocked with Job's resignation and several speculations were made as to how Apple will do in his absence. As a result of this, investors cut down as much as 7% of their shares when Jobs left Apple as CEO. Later in September, however, the stocks climbed back by 9% as the iPhone 4S was released. Apple remains to be the leader in the mobile industry as it assures their patrons that it will continue to be the best innovators and leaders of the industry.
The issue on AT&T remains to be settled as the DOJ filed an anti-trust lawsuit to stop the deal. This is, in spite, of the deal support AT&T got from Verizon and 100 members of the House committee. AT&T is bound to lose a huge amount of money should the deal be called off because there was a payout agreement of $3 billion to T-Mobile should the acquisition fail. Plus, AT&T will suffer low roaming rates and forfeited wireless spectrum leaving a total of $7 billion loss.
AT&T had to do several moves just to ensure that the deal will be passed, in spite the obvious that GigaOM is against it. First move was to scramble subscribers and spectrum to lower rivals, plus they have decided to offer concessions just to get the approval from DOJ.
In the area of tablet PCs, iPad continues to dominate this arena as much as 80% of tablet users only in North America with competitors like Kindle Fire, PlayBook, Research in Motion and Touchpad all lag behind. In fact, HPs PlayBooks that recently shipped 200,000 units had to slash the price at $99 just to pass it onto the market costing the company millions of dollars in losses.
Amazon's Kindle Fire changed its plans last September when they cut the price at $200 to make it more competitive with iPad. Although it does not intend to kill iPad, its landscape is very appealing to users with its handy 7-inch, Android OS. It could be appealing from its looks, but the Kindle Fire does not have a camera and a microphone, plus it has only 8 GB of on-board memory and also is not 3G supported.
Kindle Fire is sure to find its own audience especially with the young people who are on a budget and it will give Android the boost it needs. Amazon has an opposite strategy from Apple that counts its revenues from sales margin from iPhone and iPad from its App Store; Amazon, on the other hand, hopes to sell more Kindle Fire units and be the low end opposite iPad's costly price.
Many mobile enterprises can follow suit to close in the gap in the market share with iPad. Google can do the same strategy, but only once it closes its deal with Motorola. At the moment, Android's market share is at 48% according to Canalys.
Major mobile OS like that of Symbian, Blackberry and Research in Motion have experienced a plateau in the market share in the third quarter of 2011. Windows Phone 7, on the other hand, continues to build a following after it debuted last year. Apple iOS is the only one that remained steady in its position, while Android continues to build up its lead.  It is, however, to early to say that Apple and Google will have the market to themselves because as the deal between Nokia and Microsoft comes to a close, Window's Phone may get the boost of needs to get a chunk of the market share. RIM also has big plans to come out with mobile phones next year, which will run on QNX. WebOS cannot be entirely discounted because it has a strong system and may just be resuscitated by any enterprise willing to invest on it.
The fourth quarter of 2011 also had interesting newsmakers such as the new mobile wallet that will definitely change the way transactions are made through mobile payments.  Among the key players and pioneers here include Paypal and Google Wallet. This technology, however, is still on its very early stage and may take more years to be fully developed.
Fourth quarter news is the mobile patent war between Apple and Samsung, whose retaliation to each other have affected several other countries like the United States, Germany, France and Japan. Mobile patent seem to be the strong driver in M&A mobile activity, which is seen to be the trend even in 2012. It will be on the handset and software patent in the beginning, but will later shift next year to LTE patents where Huawei and ZTE will be the key players.
Android applications will gain traction, since it is a tablet-friendly platform and as proof is the sales performance Amazon's Kindle Fire made in the third quarter.  Other tablet players may benefit from Android, but will find it hard to keep up with Amazon at this time. Consumer behavior dictates that they prefer to invest more on tablet apps than mobile apps, so that makes the tablet market very lucrative in 2012.
Key happenings in 2012 will include Google's acquisition of Motorola, which everyone predicts will take place. This will make Google another strong giant ready to haggle with Apple as it concentrates on integrating with various mobile applications, which is unlike Apple that focuses on developing applications and hardware as part of their in-house services.
T-Mobile's fate rests on whether the AT&T deal will be approved or not. There will be other issues to face though in case it fails to push through, one is the compatibility issue and if there will be another merger offer.
Apple will continue to hit the charts with its new iPhone 4S, which was introduced in the fourth quarter. It will continue to soar with its edgy features like its dual-core processor plus its advanced camera features.
Colin Gibbs will be a name to remember in 2012 his work history backs him up: he started in tech journalism with RCR Wireless News where he covered mobile content and applications, plus marketing and advertizing stints. During his 5-year stay in this company he co-founded the Mobile Media Mondays at Denver, where he got citation for his work in New York Times and New York daily News. Before his RCR job he also served as a general reporter at Denver Daily News and a sports reporter for Denver Post.