Measuring the progress of your SEO (Search Engine Optimization) is a necessary on going task that includes thorough evaluation of the keywords driving traffic to the site and their corresponding conversion. It's not enough to look at your SERP (Search Engine Ranking Position) for the keywords you're trying to target if these keywords are not driving enough traffic or not converting well on the site.
So the questions you really want to ask are:
– Am I getting more traffic from my targeted SEO keywords?
– Are those new visitors finding the site interesting and engaging? i.e: Low bounce rate, high average page views.
– Are those visitors converting on my website?
You can answer all these questions by following these simple steps:
Using Google Analytics' "Traffic Sources" section select the "Keywords" option in the left side menu, then Click on the "non-paid" option on top of the table. Make sure you select a time range that goes far back to see the progress prior to starting your SEO project.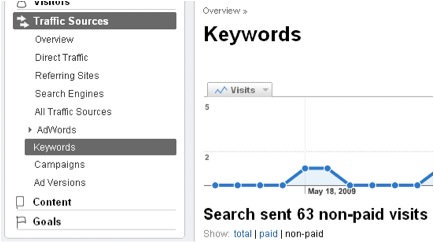 This will display all the organic traffic to the site and shows important metrics like bounce rate and conversion.
This is great BUT if you've been in business for a while you'll notice that the majority of your keywords include your company name. Its great to know that people are searching for your company and finding it on the web but what about the people that don't know you?
To narrow down your results and only look at keywords that dont include your company name, use the exclude option:
–    At the bottom of the Keyword page you'll find a search box "Find Keyword". Select Excluding and enter your company name

You should now be seeing all the organic keyword visits over time from visitors who most probably never heard of you before.
Your next step would be to check if the traffic is relevant and that you made the right choice in selecting the keywords to optimize for.