Before i start this post i would like to list the three requirements that you will need to have in your Adwords set up in order to optimize your content match:
1) You must have created separate campaigns for content only. This will ensure that your campaign performance is not affected by the low click thru rate that is generally seen with content.
2) You have set up the conversion tracking using either Adwords or the Analytics Goals set up.
3) You should be using the new Adwords Interface
Now that we have the above set up and the campaign running for a while (at least one week) we can begin optimizing our Adword content campaign with the goal of lowering cost per conversion and increasing the #of conversions.
We begin by clicking on the Network tab in our content campaign and selecting to  show details next to the Automatic Placements as seen below:

Side note: In this example I am using both Managed and Automatic placement. The reason i did that is because i needed my ads to show on additional sites that were not automatically matching my keywords and displaying my ads. This way i force my ads to display on certain sites even though the keywords don't particularly match.
Now back to our automatic placement optimization:
We can see, in the table that shows up, the conversion details for each site our ads are displaying, as well as the Ad Group keyword that triggered the ad to display. Our first task is to look for the sites that have the highest cost per conversion and exclude these sites. We can achieve this by clicking on the header "Cost/Conv (many-per-click)" and sorting the data from high to low as seen in the image below. I then choose to exclude all the sites that have over $100 cost per conversion. This will free up some funds that I can allocate to other ad groups and get more conversions for lower cost: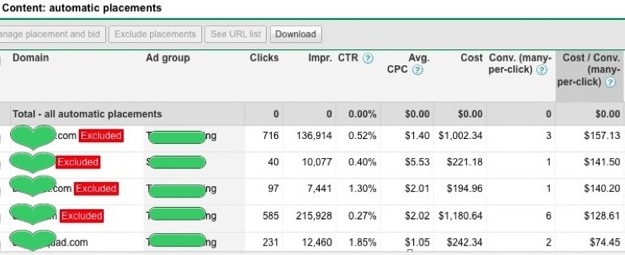 Next step, I need to find the sites that are receiving clicks but no conversion. I then sort by "Conv. (many-per-click)" instead and display the data in ascending format. I can exclude the sites that have received a significant number of clicks but zero conv. and choose to keep the ones with less clicks and wait for more significant data.

Content match should always be monitored and optimized because your ads are dynamically displaying on new sites based on content match.