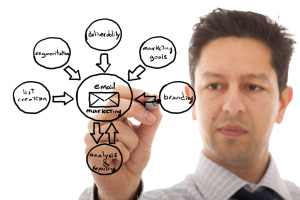 Much has been written about the core best practices for selecting a marketing automation solution, particularly the importance of matching business needs to system features and committing the resources necessary to see success. As you dig into system requirements and vendor capabilities, however, you're likely to find that the key features you truly need are common across systems from multiple vendors.
So, what do you look for in a marketing automation vendor that can help narrow your choice between several viable options? Below is a checklist of requirements that will help you prepare for your marketing automation vendor selection. Within each section, you'll find questions that you can answer which will result in defining your needs and will easily narrow your vendor selection list.
1) Database Management Requirements
Database size & email frequency: In this section you need to think about the current size of your database and its rate of growth to determine how many emails you will be sending monthly. (Most vendors charge by either the size of the database or the number of emails sent monthly)
Lead Input: How will the new contacts get into the Marketing Automation Solution? Do they enter via a website registration form? Perhaps you prefer to have them routed to your CRM then to your Marketing Automation? Or both? This will judge the kind of integration will you need (with your website or CRM).
Lead Routing: Do you already have lead assignment and routing in your CRM? Will the sales reps use the marketing automation solution to follow up with leads? How sofisticated is your lead routing? is it by country, city, area code, zip code?
Database Segmentation: How complex is your database segmentation? Will you require segmentation based on website behavior? Contact profile? Or other custom fields you've set in your CRM system?
Data quality: do you have a duplication problem in your database? Dirty data? Do your contacts require data cleansing?
2) Email Management Requirements
Email Templates: Will you require an easy to use HTML template builder?
Personalization Capabilities: Do you want the ability to add contact fields inside the email? Will you need to add an auto populated registration form inside the email?
Unsubscribe/Bounceback/Subscription/Automated Signature Management
Deliverability tools and CAN‐SPAM Compliance: Do you want the "from" email address customized with your company domain? Do you require an email spam content checker?  Reputation and Blacklist monitoring?
3) Automation Requirements
For each of the items in this section you will need to think of the most complex automation steps you will require. Today's marketing automation tools have become extremely advanced so don't be afraid to push the limit on this. After all "automation" is what they're all about.
Lead Nurturing: Example: Do you need to set up automated marketing programs that execute different actions (i.e: email), either at specific times or based on decision rules to test for specific conditions like website visit? List the type of conditions.
Lead scoring: Do you want the ability to score based on not only contact submitted info but website behavior?
Progressive Profiling: Do you need to increase your website registration conversion?  Progressive Profiling allows you to display new form fields to prospects based on the data points you have previously collected on them.
CRM Update: what type of CRM updates will you require from your marketing automation tools? Example: Lead score update, Status update, update record on all activities including email received/open/click/last web visit etc…
Real‐Time Response: Does the solution have the ability to send real-time website visitor notifications to designated recipient? How much customization can be done on this feature?
4) Campaign Management Requirements
Landing Page/Forms/Microsite Management
Event management: if you manage  events like webinars, seminars or training session you will need a solution that can capture attendee registration, waitlists, and send automated Reminders or Thank you emails.
Survey Management: Same as event management, you will need a vendor that can collect unique survey information sets to report on, and send automated Thank you for participating emails.
Marketing collateral Management: Ability to upload images and other marketing content to the solution web server and create a URL for the content that you can then use in your emails or other communications.
5) Technical Requirements
CRM Integration: Does the vendor integrate with your current CRM solution? In a two way or one way integration? Are there any good CRM integration tools for sales to help them priorities leads or contacts?
Other integrations: For example:
web analytics – you might already have a tool in place that you would like to integrate into the marketing automation solution.
Oulook Plugin integration, this will help you build and share email templates with sales and report on the open and click thru rate of these emails.
Social media short url integration.
Domain purchase and hosting.
Adwords Integration: In case you are using Adwords, this feature will be important.
6) Service & Support Requirements
This is a guideline for the type of support levels you can get from vendors. Choose the one that best suits your needs.
Basic Support Package
Availability of Premium Support
Self‐Help Support Availability
Wikis, User Forums and Other User‐Based Support
Phone Support
Email Support
IM Support