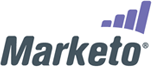 Eloqua and Marketo, the leaders in marketing automation solutions, are Platinum sponsors of this year's Dreamforce event from Salesforce.com, Inc. The two companies upgraded their sponsorship from last year where they were gold and silver sponsors. Marketing automation, a cloud marketing solution, has seen incredible growth this past year and both companies are proving to be on top of the race for Salesforce.com customer acquisition.
According to Joe Payne, CEO, Eloqua, "Salesforce.com and Eloqua have a long-standing relationship with hundreds of joint customers. Customers such as Infoblox and Brightcove are driving revenue and achieving significant success with the combination of Eloqua and salesforce.com. Dreamforce is truly the apex of the cloud computing industry, and we are excited and proud to be a platinum sponsor this year."
Top Eloqua and Marketo executives will speak at the conference:
Eloqua's CTO, Steven Woods will speak in the session titled "Is Marketing Really a Revenue Engine?" Woods will discuss how marketers can generate revenue for their organizations. Chief revenue officer, Alex Shootman's session titled "Fueling the Frontlines — How Sales and Marketing Alignment is Key to Crushing the Number" brings sales and marketing executives together to talk about how these organizations can improve alignment and deliver results.
Jon Miller, VP of Marketing at Marketo will be a panel speaker at the Marketing Professional session titled " A+ Marketing Automation Case Studies: Nurture and Deliver More Leads to Sales" where attendees will receive a free copy of the new book "The Definitive Guide to Lead Scoring." He will also be a panel speaker at the session "Cleaner Data, Higher Adoption, Better Leads"
Bill Binch, VP of Sales and Customer Success at Marketo will speak at the Sales Professional session titled " Achieving Predictable Revenue: Case Studies in Improving Sales Effectiveness". In this session attendees will learn how to implement Cold Calling 2.0, use prospects' online body language to prioritize time on the hottest leads and opportunities, and increase productivity per sales rep by up to 50%. Plus, every attendee will receive a free copy of the new book, "Strategies for Improving Sales Operations and Sales Effectiveness."
About Dreamforce:
Dreamforce, the industry's leading global cloud computing event, is focused on inspiring customer, partner and developer success with the transition to cloud 2. Attendees will learn how to maximize their current investments and explore new offerings across the Sales Cloud, the Service Cloud, Force.com, Salesforce Chatter, AppExchange 2 and more. The conference and exhibition will feature hundreds of Salesforce.com partners exhibiting the latest cloud offerings, as well as training sessions, seminars and breakout sessions.
Additional Information www.dreamforce.com