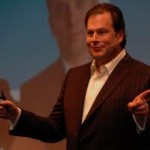 The following Dreamforce sessions are not to miss if you're a Cloud Marketer looking to enhance your knowledge of how to use salesforce and other cloud solutions to generate more leads and increase marketing ROI.
Source www.dreamforce.com
1) How Salesforce.com Uses Salesforce to Manage Marketing Campaigns
Tuesday, December 7; 3:45 p.m. – 4:45 p.m.
At salesforce.com, we've learned marketing best practices for implementing campaigns through thousands of conversations with leading companies. Join us to learn how we use Salesforce CRM to manage our marketing processes; we'll cover everything from SEO/SEM campaigns to tracking contact interactions for PR. Find out how we structure our campaigns, what we track in our dashboards, and how we hand off leads to sales. With all these proven examples, you're sure to walk away with a few new ideas on how you can leverage Salesforce to support your core marketing efforts.
2) How to Improve Marketing Efficiency Through Advanced Analytics
Tuesday, December 7; 5:15 p.m. – 6:15 p.m.
Ready to go beyond basic reporting functionality? Want to dive deeper into new functionality of drag-and-drop dashboards, the report builder, and Chatter for analytics? This interactive session will introduce you to new and unconventional ways to approach analytics—all related to helping you gain more visibility into your marketing. Based on attendee feedback, we'll prioritize the top 3-5 topics and take an in-depth look at how you can implement these capabilities to improve the measurement and reporting of your marketing campaigns.
3) Social CRM: Connecting Online Communities with Salesforce
Tuesday, December 7; 5:15 p.m. – 6:15 p.m.
Online communities and peer-to-peer collaboration are a natural extension of your CRM implementation. Learn about the different options for creating customer, partner, and employee communities on top of Salesforce. Also hear from a customer who is using Jive as a community platform and find out how they wired it together with Salesforce to create a killer closed-loop experience.
4) A+ Marketing Automation Case Studies: Nurture and Deliver More Leads to Sales
Wednesday, December 8; 3:15 p.m. – 4:15 p.m.
Looking to improve results from your campaigns and deliver more and better leads to sales? Then this session is for you! Learn how to use lead scoring to identify and prioritize sales-ready leads and how to use lead nurturing to establish a relationship with prospects that aren't sales ready. Our panel of marketing experts will share hands-on techniques you can use immediately in your existing Salesforce account. We'll also look at advanced techniques that incorporate behavioral tracking and drip email marketing campaigns to increase lead quality and volume. Plus, every attendee will receive a free copy of the new book "The Definitive Guide to Lead Scoring."
5) Advanced Campaign Management: Lead Nurturing and Campaign ROI
Wednesday, December 8; 3:15 p.m. – 4:15 p.m.
Do you wish you could automatically follow up with leads based on their behavior—and track pipeline and revenue against your efforts? Join us to learn more about Salesforce's lead nurturing and campaign ROI functionality. We'll show you exactly how to use these tools to automate your lead interactions based on their activities, while also measuring ROI. You'll walk away with practical tips on how to build automation and measure results to improve your marketing effectiveness.
6) Hands-On: Measuring Campaign ROI
Wednesday, December 8; 3:15 p.m. – 4:15 p.m.
How can you measure the ROI of your marketing campaigns? How can you get a clear picture of what's working—and what's not—with your marketing initiatives? Salesforce analytics lets you use real-time reporting capabilities and dashboards to quickly gain access to the information you need to help your marketing team see results. Get hands on with the reports and dashboards that matter most to a marketing organization.