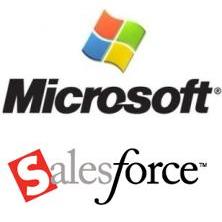 At this week's Dreamforce conference it was hard to miss the battle that was happening between Salesforce and Microsoft.
On the streets outside the Moscone Center where Dreamforce was taking place, Microsoft had representatives with blue suits and blue umbrellas riding around on Segways with a big advertisement for MS Dynamics CRM Online attached to the front. Superimposed over the photo of a gray-haired man was the text, "I didn't get forced" – a play off the Salesforce  name. But Salesforce CEO Marc Benioff twisted this guerrilla tactic to his advantage by inviting the man who appeared in the ad on stage during the keynote on day 2 of the conference. As it turns out, Benioff had seen the Microsoft ad earlier in The Economist issue and hired the actor to appear at Dreamforce.
Microsoft also released on Dec 6 an Open Letter from Michael Park, corporate vice president, sales, marketing and operations, Microsoft Business Solutions,  announcing the "Cloud CRM for Less" offer for Salesforce.com and Oracle customers. Through this offer, Microsoft said it will rebate eligible customers up to $200 for each user that makes the switch to Microsoft Dynamics CRM Online between Dec 6 and June 30, 2011. The letter also mentions the new website DontGetForced.com/CRM8 where customers can hear from companies on why they made the switch to Microsoft Dynamics CRM Online.
It is quite obvious that Microsoft is using all its tactics to create doubt in the marketplace about Salesforce's product – perhaps give Salesforce's customers a pause before they join the "Force" craze – but also to trumpet its competitive position in the CRM and cloud computing marketplace and to show everyone else that it means business.
In May of this year,  Microsoft Corp. sued Salesforce.com Inc. accusing the company of infringing nine patents for ways to make software more efficient. The complaint targeted the customer-relationship management software that is the hallmark of Salesforce.com's business. The court order was to prevent the San Francisco-based company from providing features that Microsoft claims it invented. According to the complaint filed in federal court in Seattle, salesforce "has profited through infringement of the Microsoft patents-in-suit". This Microsoft vs. Salesforce action was a defensive move from Microsoft who chooses to actually use its patents to compete in the marketplace.
Customers who have evaluated both solutions claim that the Salesforce CRM pricing is twice that of Microsoft Dynamics CRM's Online edition. On the other hand they see Salesforce as  easier to use with deep Sales Force Automation capabilities and the ability to easily integrate with a lot of technologies that fit sales and marketing . Salesforce also includes strong functionality in partner relationship management and great support for customer service.