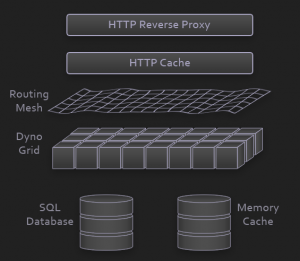 Earlier today, Salesforce.com announced it will buy Heroku, which develops and deploys web-based applications that rely on the programming language Ruby on Rails, for $212 million as part of its Cloud 2 suite of cloud applications. Benioff said Salesforce had made the purchase to open up its platform.
"Ruby is the language of Cloud 2," Benioff said. "Developers love Ruby. It's a huge advancement. The speed you can get, the agility."
Heroku is "how next-generation developers think about how to design and build and run applications," Benioff told his audience. "They've come out with how to do instant deployment and they really get how to build a rock-solid platform."
Heroku has over 106,000 Ruby applications currently running, and Salesforce.com is "looking forward to building as many Heroku applications as possible," Benioff said.