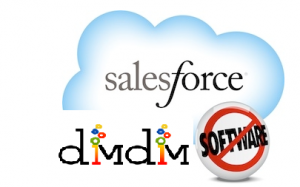 With the recent completed acquisition of Dimdim, announced Thursday Jan 6, salesforce aims to bring real-time messaging and collaboration tools to its Facebook-style enterprise collaboration service Chatter.
Founded in 2007, Dimdim provides its users with a cheap alternative for setting up online and remote meetings. That includes real-time messaging, screen sharing and other additional services. Most of its services have been popularized by consumer-oriented services like LinkedIn and Facebook. Salesforce said it will integrate Dimdim's presence-awareness, messaging and screen-sharing technologies with Chatter to advance what the company calls its most successful product launch to date.
Salesforce and Dimdim executives commented on the news:
"Facebook has fundamentally changed the way we communicate in our personal lives," said Marc Benioff, chairman and CEO, salesforce.com. "The acquisition of Dimdim will help salesforce.com deliver to the enterprise the same integrated collaboration and communication experience that made Facebook the world's most popular Internet site."
"From our start, Dimdim has focused on enabling real-time communication in the cloud, with no software," said DD Ganguly, CEO, Dimdim. "Salesforce.com gives us the opportunity to apply our expertise and align our vision of real-time, social enterprise software in the cloud – at a scale that wouldn't have been otherwise possible."
"We really want to follow the Facebook model," said Kendall Collins, chief marketing officer for Salesforce. "Many of the technologies that Dimdim brings are similar to key aspects of what Facebook delivers."
More than 60,000 customers have deployed Chatter since its release last year, making it the company's most-popular product. Salesforce.com is following Facebook's lead once again now with Dimdim. By offering an integrated collaboration and communication platform, the company believes it will drive greater Chatter adoption, increase customer loyalty and differentiate its entire product portfolio.
Salesforce didn't disclose when the new features would go live on Chatter, but said that a working demo would be available at its 2011 Dreamforce conference in August later this year.