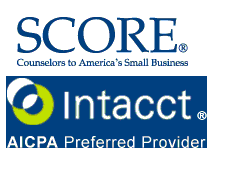 Intacct, a leader in cloud financial management and accounting applications, today announced an exclusive partnership with SCORE, America's premier source of free and confidential small business advice for entrepreneurs, which will benefit more than a million entrepreneurs that are using SCORE to help start and grow their businesses.
In today's press release, Intacct and SCORE said they will work together to educate small businesses about the benefits of adopting cloud computing – including increased productivity, heightened agility, reduced costs, and increased transparency – vs. installing old-style on-premises software. These benefits have also led to the endorsement of cloud computing by both the Obama administration and by the American Institute of Certified Public Accountants (the AICPA).
The new Intacct and SCORE partnership will also leverage Intacct's existing relationship with the AICPA, which helps small and mid-sized businesses adopt cloud computing and connect with more than 45,000 AICPA member CPA firms to improve financial performance, take better advantage of financial advice and make better and faster business decisions.
About SCORE
Since 1964, SCORE has helped more than 8.5 million aspiring entrepreneurs. Each year, SCORE provides small business mentoring and workshops to more than 375,000 new and growing small businesses. More than 13,000 business experts volunteer as mentors in 350 chapters serving local communities with entrepreneur education to help grow 1 million small businesses.
For more information about starting or operating a small business, visit SCORE at www.score.org and www.score.org/women. Connect with SCORE at www.facebook.com/SCOREFans, www.twitter.com/SCOREMentors and www.scorecommunity.org.
About Intacct
Intacct is a market and technology leader in web-based financial management and accounting applications for businesses and CPA firms.  Bringing cloud computing to finance and accounting, Intacct's award-winning applications are the preferred financial applications for AICPA business solutions.  Intacct applications are used by thousands of businesses from startups to public companies and are designed to improve company performance and make finance more productive. The Intacct system includes accounting, contract management, revenue recognition, inventory, purchasing, vendor management, financial consolidation and financial reporting applications, all delivered over the Internet via cloud computing.
Intacct is headquartered in San Jose, California.  For more information, please visit www.intacct.com .