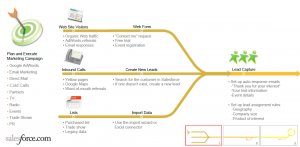 Salesforce is known as the leader in CRM, but wouldn't it be great if you could also used it for Marketing Automation? A marketer's life would be so much easier if he or she can have one solution to capture, store, score and nurture contacts.
Lauren Carlson from Software Advice wrote  a great article today on the use of Salesforce as a Marketing Automation Solution. In that article she lists Salesforce's capabilities and gaps in the marketing automation space. She also describes the companies who should consider Salesforce and the ones who should look for best of breed marketing automation solutions.
Click on this link to view the article:  Should Salesforce.com Be On Your Marketing Automation Shortlist?