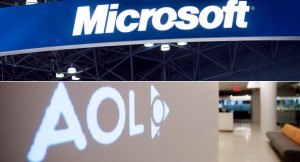 On April 9, 2012, Microsoft decided to buy AOL's 800 technology patents for at least $1 billion. For a price of $1.3 million per patent, Microsoft's keen interest on AOL's intangible property is understandable because patents do play a great part in legal and business strategies especially now that the competition is getting steeper among major technology entities of the world. The said patents can be used for tablet computers or smart phones therefore they are feared weapons and important assets of every technology company.
Even though the purchase is quite expensive, said patents can be used by Microsoft to beef up its arsenal. It is widely known that AOL, who once reigned supreme over the internet, is now shifting gears to focus on the media industry by buying interests in TechCrunch and The Huffington Post. Part of the patents sold to Microsoft are those dealing with early patents on the Internet which include customized advertisements, instant messaging, email, and search. Microsoft is said to be interested in such stuffs because they can put in smart phones.
By adding additional patents to Microsoft's arsenal, it can now use them to encourage smart phone makers to pay licensing fees. Such move is Microsoft's leverage against Apple and Google. The patents' prices are continuously going up because these companies continue to build up their stockpile. With Google's purchase of Motorola Mobility in August 2011 where it was reported that the company paid a handsome price of $12.5 billion, experts believe that the total value of the patent is quite overpriced by as much as $400,000 per patent. Also last year, Microsoft and Apple together with 4 companies purchased 6,000 patents of Nortel Networks, a bankrupt telecoms maker in Canada, for $4.5 billion. Said transaction is believed to be at most 4 times overpriced. Just last month, Facebook also bought IBM's 750 patents for an unknown amount.
Although Microsoft is not making headway over the smart phone market, it is, however, thriving in the licensing business of its intangible assets to the smart phone makers. It is believed that the company is greatly profiting through its licensing contracts to makers of handsets which corners at least 70% of Android phone sales in the United States of America, including LG, Samsung, and HTC. Experts believe that Microsoft is even making more money through these licensing contracts than its Windows Phone applications. With an estimated 20,000 patents under its belt, Microsoft has about 4 times more patents than Apple.