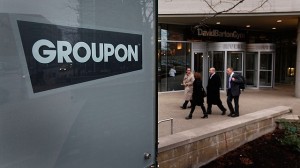 After much anticipation, the date for Groupon's IPO is set for November 4th where the company seeks to raise $621 million from the offering, valuing it at $11.4 billion. Groupon is planning to offer only 5% of its shares to the public for a price between $16 and $18, listed on the Nasdaq under the symbol GRPN. With this scaled-back offering of only 5%, Groupon is following a tactic that was used recently by LinkedIn and Zillow IPOs who offered only a small portion of their total outstanding shares, which somehow led to an increase in demand and more volatility.
Since filing to go public in June, Groupon has experienced a rough ride. The company has been under scrutiny from the Securities and Exchange Commission over an unusual accounting metric it used to measure its revenue that didn't include the heavy costs of marketing. The SEC also accused the company of inflating its revenue figures by including money it would ultimately have to pay back to merchants, as a result the company cut its reported revenue in half to satisfy concerns.
The general view on Groupon has been negative ever since they turned down the $6bn buyout offer from Google.
Groupon's IPO roadshow is expected to kick off next week with the intent to persuade investors.
If you're interested in learning how Andrew Mason, Groupon CEO and co-founder, and other Groupon executives will be pitching investors on the company's IPO, view this video released just this morning.