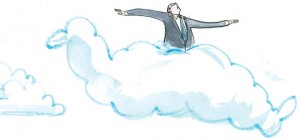 Cloud computing is spreading like wildfire. The number of enterprises moving their IT operations to the cloud is tremendously growing. Established vendors like Salesforce, Amazon and Google, including other startup firms that provide tools and services for cloud computing continues to increase and clamors for attention.
In this emerging industry, here are the lists of 15 promising cloud computing vendors based on cloud security and storage to apps and infrastructure offerings that should be on your radar screen.
Zimory, a Berlin-based company, offers a technology suite for enterprises to transition virtual data centers into cloud-based infrastructure. The company aims to provide high-quality cloud solution while maximizing efficiency as it taps into underused resources. Zimory's open-technology can scale up to thousands of machines and connect with multiple clouds.  The firms Carrier Grade Cloud Computing portfolio is billed to be a comprehensive solution for deploying and managing secure and scalable public, private and hybrid clouds.
Abiquo is one of the most promising upstarts in the cloud computing arena. It boasts of a comprehensive hypervisor support portfolio including leading vendors such as  Microsoft, Citrix, VMware and Zend. The firm offers a permission-based hierarchy that enables enterprises to forge public, private or hybrid clouds spanning data centers on- and off-premises. It provides a support system to remove vendor lock-in problem through a  drag-and-drag conversion for virtual machines from one hypervisor to another.
Standing Cloud provides enterprises with a simple proposition: "We do the sys admin so you don't have to. Sure, you could handle Web application management. But why?" The firm provides management services on a variety of big-league cloud operators.
Standing Cloud enables users to "deploy myriad open source software solutions to IaaS (infrastructure-as-a-service), but goes a step farther in letting you choose from multiple clouds," according to Forrester analyst James Staten.
Appirio engages itself with both the technological and consulting challenges of enterprise adoption of cloud computing. Since 2006, the firm has helped implement cloud deployments for 200 enterprise clients with some of the leading vendors, including Google, Salesforce and Amazon. Earlier this month, it has acquired VMG, a consulting firm specializing in learning programs and  cloud training.
Spanning Cloud Apps, a company specializing in backup services for Google Apps on its LinkedIn page, was founded to become the Norton Computing of the cloud computing era. The firm offers its signature Spanning Backup product for a free trial and acceptable annual subscription.


Bluelock is considered as a leading VMware vCloud hosting provider that offers both technology and services in the infrastructure-as-a-service (IaaS) space. The firm's services are tied to VMware's virtualization technology. It delivers a tailored solution for establishing a virtual data center hosted on a public or hybrid cloud.
Skytap, self-service cloud automation, announces the release of a new technology that claims to establish a secure hybrid cloud that connects to an on-site data center with its cloud in 10 minutes. The firm anticipates winning with a dead-simple hybrid cloud deployment solution that provides the security of the traditional data center with the scale of the cloud.
CloudOptix, backed up by MeghaWare product line, is a cloud virtualization software player that offers businesses and users a way to create a private cloud from different vendors.  With the preconfigured MeghaWare Cloud Appliance's portfolio of storage, and applications, it promised low-cost deployment in less than 15 minutes. To defang the problem of vendor lock-in, its CloudTop application, allows customers to choose among devices, apps and cloud providers.
RightScale, a software-as-a-service (SaaS) vendor offers a fully automated management platform for cloud computing deployments. It aims to lower the entry barriers to cloud deployments with server templates through its "cloud-ready" mechanism for connecting servers with the customer's cloud environment.
Recently, RightScale and Zend Technologies announces their new offering that pairs RightScale's cloud management platform with Zend's PHP architecture and Zend Server. This technology deploys and manages Php applications in the cloud.
CloudSwitch, known as an enterprise cloud gateway, provides software in line with the policies and tools rooted in the data center with a cloud environment. It offers security for businesses that requires maintenance of in-house and cloud-based IT assets. Earlier this month, CloudSwitch conjoined with Riverbed to boost performance and security in the cloud.
Kaavo considers itself to be "the first and only company to deliver a solution with a top-down application-focused approach to IT resource management across public, private and hybrid clouds."  The firm believes that its application-centric approach  is necessary for effective cloud management. Its core product, IMOD, an application management assures speeding up of server systems online, configuring middleware, and other steps to hasten the transition to a cloud-based environment.
Prolexic Technologies is a provider of cloud-based security technology that mitigates DDoS attacks. The firm caters to SMN, enterprise and government clients. It features proprietary mitigation and control software that helps detect and fend off DDoS attacks through pairing with a global network of "scrubbing centers."
At the end of March, the firm received $13.9 million fund from Kennet Partners, an organization that is rumored to be helping a major electronics manufacturer guard against a DDoS attack.
Nimbula, founded by a management team that helped develop Amazon EC2 coins itself as a "cloud operating system company." Recently, the firm released its flagship product, Nimbula Director 1.0 that provides management for both cloud-based resources and on-premises data centers. This Director 1.0 is also available for free download for smaller deployments up to 40 cores, and an optional-fee based annual support for larger systems.
Nasuni, through its partnership with cloud-computing providers offers a "cloud gateway" that searches for the best aspect of the cloud and on-premises storage. This year, its Nasuni Filer product features a "snapshot retention," that allows IT managers to set storage and retention policies on the cloud. With this feature, managers can determine the point then a snapshot can be deleted irrevocably
NephoScale is one of the more recent entrants in the IaaS market. The firm's public cloud infrastructure platform offers pay-by-the-hour servers, object-based storage, and dedicated, on-demand servers. Its signature innovation, the CloudScript, enables users to control all elements of their cloud deployment using a single, one-to-many API call.
Recently, the firm offers a free, one-year trial of a 256 MB cloud server and as much as 1 GB of storage through its Cloud Computing and Storage Starter Package. According to NephoScale President Bruce Templeton, this offering will allow start-up companies to familiarize themselves with their services without spending too much.