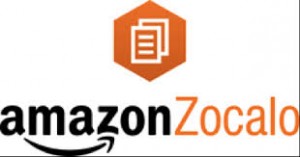 After a month of testing, Amazon has announced that Zocalo, the service to store and share online documents, is now available worldwide for all customers of Amazon Web Services (AWS).
Amazon announced the Zocalo service in July, the service is designed especially for corporate customers that want to save the data and share. After a 30-day test phase of the Zocalo, the service costs $5 a month.
Zocalo is a service comparable to that offered by Dropbox cloud where data is accessible from any connected device and the system also offers the option of automatic synchronization of data. Zocalo proposes to implement security policies allowing for example to prevent copying of certain documents to the outside. It can also control and restrict user access, or choose the country in which your data will be stored via a system of regions.
The service offers with enterprise-grade security, strong administrative and feedback capabilities that improve user productivity. With the Zocalo Management Console, administrators can review the records and keep track of file and user activity and decide whether to allow a user to share a file outside the organization.
Zocalo administrators can configure the software so that employees cannot share documents with external entities. In addition, administrators can specify the region in which the files are stored. Zocalo users can preview Microsoft Office files, Web pages, images, PDFs and text files, view and comment on the data directly. The largest size of file is 5GB including a storage capacity of 200 GB. Amazon Workspace customers also receive free access to the Zocalo, where 50 GB of storage per user are available.
Amazon Zocalo can integrate with your existing Active Directory. This means that users can easily access Amazon Zocalo using their existing Active Directory credentials.
An Asset to Attract Companies
Although the field of cloud services currently there is fierce competition and companies like Google, Microsoft and Dropbox are competing to see who will offer users more space for less money, the new service from Amazon to be distinguished from competition among other interesting security features and price.
The posted price for access to 200 GB of space allocated by Zocalo is attractive enough for companies that want to benefit from cloud storage service quality at lower cost. At only $5 per month per user, the cloud service could attract enterprise customers. What is also interesting is that Amazon has done a blow to Dropbox that relies on Amazon S3 infrastructure for the management of its cloud service.
The other step forward, compared to the most popular storage services such as Dropbox and Box, is the possibility for the user to edit every single option to share. Users can also choose where their data will be stored – the possibilities are currently three – Oregon, Virginia and Ireland. According to Amazon, users should choose a data center that is closest to them to make the cloud to work as quickly as possible.