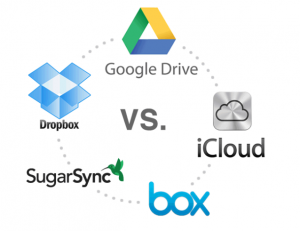 Google has made it clear for years that they're determined to be the number one name in the cloud storage game. Google has announced a reduction in the price of their subscriptions to the service cloud storage, Google Drive, thanks to a series of infrastructure improvements.
While iCloud gives 5 GB of storage for free to all Apple device owners, Google Drive's basic service has provided 15 GB for free since May of 2013. Specifically, the company has announced the new prices that will be set as follows – for $1.99 a month ($24 dollars a year), just $4 more than 20GB of iCloud, Google Drive users get 100GB of storage. For $9.99 a month, or $120 a year, Drive users get 1 TB of cloud storage. A $100 a year of paid iCloud service meanwhile only nets iCloud users a total of 55 GB of total storage, and Dropbox users 100 GB. These options do not eliminate the option of free storage that will remain in effect for all users with an account on the Google platform.
Google Drive isn't only about storage; it's also where Google productivity apps live, and it's closely linked to its photo sharing-storage tools and Gmail, all of which share the same pool of available online storage.
With this move, Google makes it much more accessible and attractive premium services related to Google Drive winking at those users who searched for a cloud storage solution with plenty of space but without having to pay crazy.
The Cloud Storage Price War Begins
The cloud storage space has become extremely competitive in recent years, with services popping up from independent firms like Box and Mega, as well as major tech firms like Amazon, Microsoft, Google and of course Apple. They're all fairly similar, except for of course pricing and device compatibility.
The sharp drop in Google Drive prices is a sign of strong competition in the services sector of online storage, where each platform trying to convince users to store their files in it rather than a rival. If a strong storage space is a key argument in choosing a service, the price is equally important.
For comparison, the popular cloud service Dropbox, which is used by over 200 million people, offers a free 2 GB only. The cost of storing 100 GB is $ 9.99 per month or $ 99 per year. In addition, Dropbox offers corporate tariff plan: unlimited space for groups of 5 people and costs $ 15 per user per month. Users who go with Box can get 10 GB of free storage. For $5 per month, they can get 100 GB of space. Box's Business plan offers users 1,000 GB of storage for $15 per month per user, but there must be a minimum of three users on the plan, bringing the minimum price to $45.
Microsoft, in turn, offers a free 7 GB of space in their cloud storage. Recently, it has been renamed from SkyDrive in OneDrive. For $25 a year, Microsoft offers 50 GB extra space in addition to the free offer.
To be fair, Google's Drive pricing was already lower than the other most popular service Dropbox, with a 100GB plan costing $4.99 per month vs. $9.99. But that extra $3 per-month savings equates out to $36 per year, making it even more attractive. Google also has the advantage of its new fleet of Chromebooks, Chromeboxes and Android devices, all of which have Google apps installed. Google's lower cloud storage prices will also entice more people to buy Chromebooks, which will in turn eat away at yet another part of Microsoft's business.