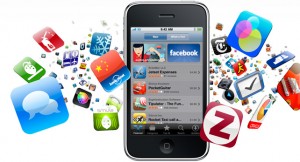 Mobile phone users use their smartphones for greater usage of social media, navigation, video, retail, and music apps such as Facebook, Google Maps, YouTube, Amazon (retail), and Pandora Radio. Social media is the most popular with larger screens users, followed by navigation, video, retail and music.
Last year, Forrester Research annual report predicted that mobile software and mobile apps grows in an impressive way as consumers are now more inclined to tablets and the rise in mobility has led to noteworthy developments in the cloud. Now, a new report from ReportsnReports.com found that hybrid cloud Market is expected to reach $79.54 billion by 2018 at a CAGR of 30.19% from 2013 to 2018.
The report "Mobile Cloud Market by Application (Gaming, Entertainment, Utilities, Education, Productivity, Business & Finance, Social Networking, Healthcare, Travel & Navigation), & By User (Enterprise User, Consumer) – Worldwide Market Forecast and Analysis (2014 – 2019)" says the mobile cloud market is fast gaining momentum primarily due to the convenience provided by the mobile cloud apps and services to the users. The present times has seen an extensive rush in the adoption of mobile cloud as it provides users the access to any content simply on a click over one's mobile phone. Further, the mobile cloud market is also growing in pace as users are becoming more responsive towards adapting applications and services pertaining to the mobile cloud.
The report presents a comprehensive assessment of the worldwide mobile cloud-based application categories, and end-user analysis, mergers and acquisitions, and venture capital funding. The correlation between phones and greater data usage would seem to point to a higher rate of engagement. The growth of HTML5 technology has also additionally fostered growth in this market.
The report further noted that the evolution to mobile cloud is the outcome of the rapid progressions occurring in the cloud arena supplemented with the availability of competent mobile devices in the market. Companies like Amazon Web Services, Microsoft, Google, Salesforce.Com, Apple, Rackspace, EMC, IBM, Oracle, AkamaiTechnologies and others are benefitting from the explosion of mobile cloud apps and services.
Although mobile cloud have leveraged both the user segments of enterprises and consumers, mobile, data security and privacy is the chief concern among the enterprises and consumers. Cybercriminals are doing everything possible to insert the infected applications in reliable sources.
This has in turn led to significant global spending on mobile devices and network security infrastructure, software and services. Installation of anti-malware and anti-virus client software is thriving faster downloads and the basic requirement for most smartphones and tablets.