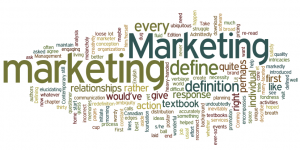 The "Cloud" has become the biggest buzzword in technology today and it is having a revolutionary impact on small to medium size businesses (SMBs), especially in the way they market their business.
In order to optimize their spending, small businesses have to be creative when it comes to marketing resources. Most small businesses cannot afford a PR agency, large marketing/IT staff or even in-house marketing resources. Utilizing low cost cloud marketing tools (cloud computing tools for marketing functions) is the perfect answer to tight resources with small businesses.
Cloud marketing benefits SMBs in the following areas:
Reduced Cost
Cloud technology is either free or paid incrementally on a subscription basis, saving organizations money. Best example is Google Analytics, a free web analytics service from Google, which helps marketers gather data about website visitors and determine the sources of website traffic, which keywords produce the most conversions, and which marketing elements produce the highest ROI.
Ease of Implementation:
SMBs can implement their cloud marketing software without the need to purchase hardware, software licenses or implementation IT services. Cloud marketing software is accessible over the internet in a Software-as-a-Service (SaaS) model, where all you need in an internet connection.
More Mobility and Efficiency
Placing marketing assets in the cloud makes them easy for all parties involved to create, modify, use and share. The marketing staff can access these assets wherever they are, rather than having to remain at their desks. Mobility is important for SMBs because it lowers transportation cost and increases productivity.
Less Need for IT Resources
By placing storage and server needs in the hands of a third-party provider, SMBs shifts the burden placed on their in-house IT team to a third-party provider. As a result, the in-house IT departments can focus on business-critical tasks without having to incur additional costs in manpower and training.
Cloud marketing can be divided into 5 different categories:
Social Media & PR
Social media cloud platforms, like Twitter and Facebook, opened the doors for organizations of all sizes to increase their brand awareness and facilitate conversations with their customers. SMBs can connect and receive direct feedback from their customers and targeted markets without the need to hire outside market research companies.
Website Marketing
This category includes the cloud based tools used for Search Engine Optimization and Search Engine Marketing, and usually consists of: Web analytics, pay-per-click management, keyword discovery tools, Keyword bid management systems, etc..
CRM & Marketing Automation
Customer relationship management (CRM) and marketing automation software is a must-have for companies that want to keep in touch with their customers, and for SMBs, the most compelling products live in the cloud.
Virtual Events
Virtual events platforms hosted in the cloud include webcasts and webinars but also full blown seminars and conferences. These have been traditionally used for online classes and training certifications but are now seen as marketing tools to showcase live product demos to clients and for hosting online marketing events.
Document Storage
Cloud based document storage services help paper intensive small businesses manage their paper and digital files by scanning and hosting the scanned documents in an online management system.