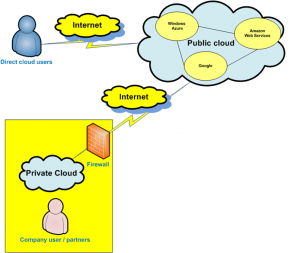 Private cloud computing has some advantages over public could for small and midsized companies (SMBs).
While public cloud's advantage includes low upfront cost, with practically infinite scalability, it has a significant downside especially in accountability, security, and lock-in. Like their large enterprise counterparts, SMBs must store and protect critical data – often customer data – and ensure that it is readily available when it's needed the most, frequently driven by government and other compliance mandates. On the other hand private cloud computing allows SMBs to easily deploy a well-managed and secure cloud, built on virtualization and automation with many of the advantages of cloud computing and less of the public cloud problems.
SMBs can still have the best of both worlds by adopting the private cloud in addition to the public cloud.
Public cloud services allow SMBs to have applications they normally could not afford because they work well for hosted applications; while private cloud works well for infrastructure, especially when it comes to virtualizing servers and desktops. SMBs can use the private cloud for infrastructure consolidation, and the ability to share resources to provide the same experience to each user, increased efficiency, and better reliability with high availability and fault tolerant solutions.
Data is the heart of many small and mid-size businesses, making backup and protection essential. SMBs can still have local applications and files backup to the cloud for disaster recovery, and allow for the public cloud to mature before they choose to change their entire infrastructure over to the public cloud. Public cloud works well for Hosted Exchange, CRM, and many other applications, but an infrastructure in the public cloud is not something that currently works well enough for SMB clients.
Generally SMBs have limited or no dedicated IT staff and no time or resources to set up the virtualization, automation, storage, and networking technologies to create and support their own a private cloud solution. That is why most SMBs turn to managed service providers for help with setting up their private cloud.