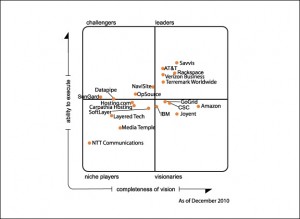 Gartner, Inc., has positioned Savvis in the leaders quadrant in the Magic Quadrant for Cloud Infrastructure-as-a-Service and Web Hosting. The report authored by Gartner analysts Ted Chamberlin and Lydia Leong, was published on Dec. 23 and features several cloud hosting providers such as Amazon, GoGrid, Rackspace, and Terremark. The Gartner report can be accessed at www.savvis.net/magic-quadrant-leader, compliments of Savvis.
Savvis Symphony is an industry-leading suite of cloud solutions for the enterprise. Through a flexible, easy-to-use cloud interface, Savvis Symphony delivers cost savings, high performance, security, and scalability. Combined with a global data center footprint, leading network connectivity and consultative business model, Savvis continues to meet clients' rapidly changing business requirements.
Bill Fathers, senior vice president of global sales and marketing at Savvis commented on the report: "We believe our position in Gartner's Magic Quadrant as a leader is a testament to our overarching commitment to delivering visionary, enterprise-class solutions to our growing list of clients on a global basis. We are honored that 33 of Fortune's top 100 companies depend on Savvis for their mission-critical applications in this fast-paced, dynamic environment. We look forward to continued growth and momentum on the heels of such a respected industry acknowledgment."


The Gartner Magic Quadrant is widely recognized as one of the most influential market analysis for enterprises seeking to evaluate cloud and hosting vendors. The Gartner Magic Quadrant for Cloud IaaS and Web Hosting is a representation of the marketplace during a specific time period. It depicts Gartner's analysis of how certain vendors measure against criteria for that marketplace, as defined by Gartner. This Magic Quadrant assessed the "completeness of vision" and "ability to execute" of 20 cloud infrastructure and web hosting providers.
According to Gartner, vendors listed in the leaders quadrant "have proved they have staying power in this market, can frequently innovate on their existing products and can be relied on for enterprise-class needs. They have proved their technical competence and ability to deliver services to a wide range of customers. They address multiple use cases well."
"New managed hosting customers should sign two-year contracts with these companies. Satisfied customers renewing a contract with one of these firms should sign a three-year deal. Cloud IaaS customers should buy these services on demand, or in contracts of one year or less."
About the Magic Quadrant
The Magic Quadrant is copyrighted 2010, by Gartner, Inc. and is reused with permission. The Magic Quadrant is a graphical representation of a marketplace at and for a specific time period. It depicts Gartner's analysis of how certain vendors measure against criteria for that marketplace, as defined by Gartner. Gartner does not endorse any vendor, product or service depicted in the Magic Quadrant, and does not advise technology users to select only those vendors placed in the "Leaders" quadrant. The Magic Quadrant is intended solely as a research tool, and is not meant to be a specific guide to action. Gartner disclaims all warranties, express or implied, with respect to this research, including any warranties of merchantability or fitness for a particular purpose.
About Savvis
Savvis, Inc. is a global leader in cloud infrastructure and hosted IT solutions for enterprises. Nearly 2,500 unique clients, including 33 of the top 100 companies in the Fortune 500, use Savvis to reduce capital expense, improve service levels and harness the latest advances in cloud computing. For more information, please visit www.savvis.net www.savvisknowscloud.com www.savvis.net/magic-quadrant-leader