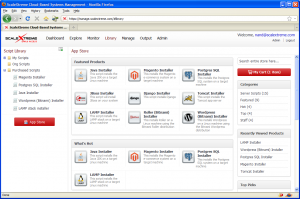 The Cloud-based Systems Management startup, ScaleXtreme is launching their Early Access program today. We had the chance to interview their CEO, Nand Mulchandani.
Which problems do you solve?
The rate of server deployments is vastly outstripping the rate of systems admin hiring. Admins are being asked to manage more servers, with more complexity, which can only be managed through comprehensive automation. Systems Management has traditionally been performed using expensive, on-premise software, that has required a legion of consultants to get up –and-running. However, companies are increasingly using server capacity outside of their own organizations, which these on-site management tools are simply unable to contend with.
What is Cloud-based Systems Management?
Systems management based in the cloud takes the opposite approach. All systems under management, be they cloud servers, dedicated servers at a hosting partner, virtual servers in a datacenter, and even physical on-site servers, can all be managed from a single system. This console, hosted in the cloud, is therefore available anytime, anywhere, from any device with a browser.


What is ScaleXtreme about?
ScaleXtreme differs from other legacy systems management vendors: it is the first systems management product hosted in the cloud. It provides easy-to-use management of servers for SysAdmins with servers inside their organization, at a datacenter, and/or up in the cloud, providing full visibility, automation and control, from anywhere via a browser.
ScaleXtreme provides unified management of all of an organization's servers – physical and virtual – whether on they are on a local network, or hosted in a private or public cloud. Customers benefit from a single interface through which to address all their servers, at significantly lower cost.
ScaleXtreme is itself a cloud-based service, so systems administrators can access their ScaleXtreme console – and therefore all their servers – from anywhere, anytime. This gives them real-time access and control of their servers, from any device – laptop, tablet or smart phone.
ScaleXtreme enables automated management of tasks across all of those disparate systems, irrespective of where they're located or what platforms they run on. This significantly simplifies managing servers in heterogeneous environments, or hybrid clouds.
Which are your key features and what are the key benefits for your customers?
ScaleXtreme installs in under a few minutes, no consultants required – unlike the older generation of products from the "big 4" vendors like BMC, IBM, CA, or HP, our products can install in minutes. There are also auto-installers for Amazon EC2 and Rackspace. Unlike other heavy-duty enterprise software companies that make big money from "consulting services", our products are for IT operations and admins to use and deploy themselves. It is that simple.
Full support for Linux and Windows. ScaleXtreme provides equal support for both operating environments and in many cases customers can even pull off operations between both systems through the same interface.
Full support for private and public cloud machines – even though we're hosted in the cloud, we can manage internal machines without any changes to firewalls. We also manage public cloud machines, regardless of who the hosting provider is or what virtualization platform they might be using. As long as the server is running a supported Linux or Windows operating system, we can manage it.
App Store for scripts that allows admins to publish their own scripts to a common store in the cloud. We have a super-integrated experience that allows them to take something off the app store and it shows up right in the product – no downloads, uploads, or messy handling of files. It's all automatic and integrated.
"Live" management – most products for systems management are old-style batch mode products. These products don't give admins live access to their systems to diagnose or solve problems live. Our system is fully capable of allowing them to manage multiple machines through our unique "one to many" operation support, giving them the best of both worlds – live access with a multiplier effect for management.
Which are your target customers and how big is the market?
The primary target for ScaleXtreme is the systems administration community. This includes in-house systems administrators in medium- and large companies; managed service providers that provide these services to smaller business customers; and server hosting providers who wish to provide these services to their own customers in turn.
Gartner estimates that 8.8m hardware servers were shipped in 2010, up from 7.6m in 2009. (Gartner, Feb 2011). IDC estimates that 35% of hardware servers shipped as virtualized servers in 2010 (IDC, Feb 2011). Estimates of the total number of servers – physical and virtual – in production range from 20-30m, given undercounting of "build-your-own" servers and re-purposed desktop.
Can you explain what you mean with the "social" angle to systems management?
Systems administrators frequently create scripts which they use to automate routine tasks across multiple servers. However, to date there has been no easy way for them to collaborate and share these scripts, particularly beyond their own firewall. Many of these scripts live in isolation on local hard drives, are not accessible to colleagues, and are often "lost" when people change roles or move on. By providing a centralized "drop-box" for scripts in the cloud, sys-admins are able to share work efforts, collaborate with each other, and benefit from a growing repository of automation content.
Explain how the cloud-based App Store will work
ScaleXtreme's Library feature enables systems admins to publish their scripts from their Library, to the ScaleXtreme App Store, making it available to other in the systems admin community. Equally, sys-admins that are new to managing their servers, can simply buy or download scripts from the App Store into their Library to get themselves started. Sharing scripts within the sys-admin community fosters collaboration, and makes it easier for all to get their work done faster.
Does the solution work in private/public/hybrid cloud environments?
Yes. Unlike many systems management tools that are specific to certain environments of platforms, ScaleXtreme spans physical servers, virtualized servers in private clouds, public clouds, and any hybrid models in between. The service is also agnostic across Windows, Linux and Mac, making the transfer of files and automation of scripts across disparate systems, seamless.
What is your business model and when do you expect to be profitable?
ScaleXtreme's initial public beta – termed Early Access – is free. However, the company expects the final product to be priced around $150 per server per year for physical or persistent virtual servers; for machines that are bought by the hour from public cloud providers, there will be an hourly charge, instead. In any case, we have a freemium business model, whereby we give customers a number of servers under management using ScaleXtreme for free.
The company expects to begin charging for its service in the summer.
How do you differentiate yourself from Puppet Labs and ScienceLogic?
Unlike PuppetLabs – open-source, on-premise systems management software – ScaleXtreme is hosted, so no additional hardware is required upon which to install the software. Nor are there implementation and consulting fees required to become operational. Puppet is also a batch-mode system, while ScaleXtreme gives administrators live, real-time access to their systems.
ScienceLogic is in an adjacent but different space than ScaleXtreme. ScienceLogic is primarily a monitoring product and is actually hardware based. ScaleXtreme is an actual systems management product (with a small monitoring component) that is cloud-based. Very different.
Who are the founders and investors in ScaleXtreme?
ScaleXtreme was founded by Nand Mulchandani, CEO, and Balaji Srinivasa, CTO, both with deep expertise in systems management, virtualization and security. Mulchandani was previously with Accel Partners as an entrepreneur in residence. He founded two companies – Oblix (acquired by Oracle) and Determina (acquired by VMware). Srivinasa was formerly the Principal Architect at BladeLogic (acquired by BMC), an enterprise systems management application vendor. ScaleXtreme was founded last year, and received an initial $2.5M investment from Accel Partners in Aug, 2010, led by Ping Li (General Partner, Accel).
Nand Mulchandani is the CEO and Co-Founder of ScaleXtreme. Nand is a serial entrepreneur, having co-founded two other successful companies in the enterprise infrastructure and security space – Oblix (acquired by Oracle) and Determina (acquired by VMware). Prior to ScaleXtreme, Nand was an Entrepreneur-In-Residence at Accel Partners, CEO of OpenDNS, Senior Director of Product Management and Marketing at VMware, Co-Founder & CEO of Determina, and Co-Founder & VP Product Management at Oblix. Nand received a BA in Computer Science and Mathematics from Cornell University.