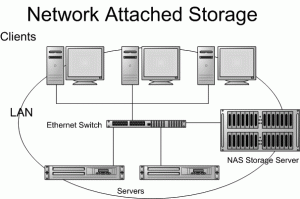 Cloud data storage systems do not correspond to the death omen for small and medium-sized businesses (SMB) network-attached storage (NAS). In fact, it is expected to reach sky high in revenue in 2015 by as much as $2 billion.
This was supported by the survey conducted by In-Stat, a market research company that stated that for every 10 SMB users 7 of them make use of the NAS systems. SMB shipments in 2010 grew by 46.5%.
Another survey conducted by market research company TheInfoPro revealed that only 10% of enterprise class companies are contemplating using the public cloud in storing even their lowest level archived data.
Details of the survey from 247 Fortune 1000 corporations that was released last month also showed the positive results. When asked about using storage as a business solutions service: 87% responded that they have no plans to acquire the public cloud service, 10% confirmed they would use it and the remaining 3% were still unsure about it.
Although SMB NAS is only a small margin of the total NAS market share it is anticipated to grow at a faster pace in four years time. The volume of revenue is expected to come from North America and Europe where 84.6% of the market share goes to SMB NAS.
Norm Bogen, Vice President for In-Stat Research said the following statements regarding the data they gathered "As the market has matured, the definition of NAS has taken on additional aspects." He also added "In particular, system management software has evolved into the most important feature of NAS adoption for several reasons, but primarily because it simplifies the user experience to set up and manage NAS products."
The same survey also showed that of the total respondents, 53.7% are using SMB NAS and what was significant is that the remaining percentage of non-NAS users come from companies with less than 50 employees.