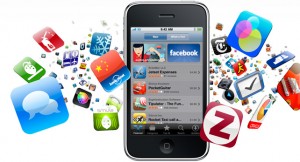 MobileBeat — VentureBeat's seventh annual event on the future of mobile — is gathering the industry's brightest minds to unveil brand new case studies and strategies designed to help companies leverage mobile to drive real growth. 
They've got a bunch of new speakers listed below, as well as a roadmap laying out what exactly you'll get out of the event.
Our friends at VentureBeat are offering our network a 15% discount on tickets. Register now and save using code CT15.
Come to MobileBeat and learn…
the best mobile monetization techniques for your company, whether you're a retailer, game developer, media publisher, consumer site, or enterprise vendor
less known but powerful techniques to grow your mobile presence, from audio to location and design technologies
what technologies you need to exploit the latest offerings in programmatic advertising
how to make your app more interactive and dynamic to retain and build your customer base
how native advertising strategies can empower your business by engaging your community
how to serve and target your customers across devices, and from online to offline
the art of "deep linking", so that you can make apps that are more open and interactive with the wider web
the mobile analytics and data-crunching techniques you need in order to boost profitability
how video can make or break your product sale or ad campaign on mobile
about the hottest new technologies emerging in mobile, through our Innovation Showdown
how predictive apps are quickly becoming table stakes in mobile today, and how large publishers are leveraging them
Featured speakers include:
Jason Spero, Global Head of Performance Media, Google
Gibu Thomas, SVP, Mobile & Digital, Walmart
Keith Rabois, Partner, Khosla Ventures
Nicolas Franchet, Head of Retail & e-Commerce, Facebook
Kira Wampler, Chief Marketing Officer, Trulia
Bill Ready, CEO, Braintree
Joff Redfern, VP, Mobile Product, LinkedIn
Brian Mead, Director of Product Management, Yahoo Sports
Robert Scoble, Startup Liaison Officer, Rackspace
Frank Weishaupt, Chief Revenue Officer, Millennial Media
Bridget Dolan, VP, Interactive Media, Sephora
Mike Bidgoli, VP of Product, LivingSocial
Heidi Browning, SVP, Strategic Solutions, Pandora
Richard Alfonsi, VP of Online Sales & Operations, Twitter
Glenn Lurie, President — Emerging Enterprises and Partnerships, AT&T
Gustaf Alstromer, Product Manager, Airbnb
Wilson Fong, VP of Partnerships, Threadless
Colin Billings, VP of Growth, Stitcher
Brian Lakamp, President, Digital Clear Channel Media
Brendon Kim, Managing Director, Strategic Investments Group, Samsung
Timothy Lee, Partner, Sequoia Capital
Colin Smith, Managing Director, Digital Platform, Nascar
Eric Perko, VP/Media Director, DigitasLBi
Alexis Rask, Chief Revenue Officer, Shopkick
Susan Neal, EVP, Marketing & E-Commerce, The Men's Wearhouse
Joe Braidwood, Chief Marketing Officer, SwiftKey
Kelly Solomon, VP Multichannel & eCommerce, L'Oreal
Keith Colbourn, SVP, Loyalty & Analytics, Safeway
Don Chennavasin, Sr. Dir. Product Management, Mobile, Groupon
Rob Kwok, Co-Founder & CTO, Crittercism
See the full list here.
For more on the vision of this year's MobileBeat, including program themes, you can head over to the event site.
Join 1000 mobile visionaries, leading brands, analysts, developers, investors, and press for two days packed with high-value discussions, actionable lessons, exclusive announcements, and lots of networking.
Grab your tickets now to save 15%! Use code CT15. Seats are limited.
See you next week!