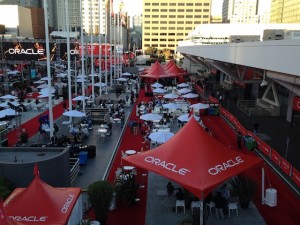 Oracle OpenWorld, which closed its doors yesterday, gave everyone a surprise when longtime rivals went up the same stage to announce their new partnership. Microsoft and Oracle have decided to put bygones be bygones as they venture into a new enterprise cloud.
This move was fueled by both companies' desire to push Azure over its biggest competitor, Amazon. It will also allow a more simplified licensing process for cloud users. The deal: Subscribe to Windows Azure or Windows Hyper-V and access Oracle's database applications from Oracle Linux, Oracle WebLogic Server, Oracle Database, Oracle Solaris, Java and many others. The interesting questions though are – how much will be the cost be and what about the Oracle licensing? To which, Microsoft's general manager for Windows Azure, Steven Martin said the service and licensing prices are still being finalized.
In a first ever appearance in an Oracle OpenWorld audience, Microsoft's corporate VP for cloud and enterprise engineering, Brad Anderson expressed his excitement to speak to the Oracle cloud users.
Oracle and Microsoft had each tried desperately to own a larger market share of the Windows cloud database with its Oracle and SQL Server successively.  After a decade, however, Windows Server grew stronger in the enterprise data center making the two giants realize that a new strategy is in order.
In the last announcement the two companies made, they assured their customers that running Oracle using Microsoft system will be made seamless via WebLogic Server and Java. This arrangement will also allow cloud customers access to the different Oracle support applications.
As of this writing, a Microsoft website is now available to assist its cloud users in downloading the new preview version of the WebLogic application server, Oracle database and Java Development Kit that can be test-driven via Windows Server. These products will all be available as part of the Hyper-V files set.
"Today is the first of many steps that will deliver on the promise of this partnership, and there is more work and more announcements to come," Anderson wrote.