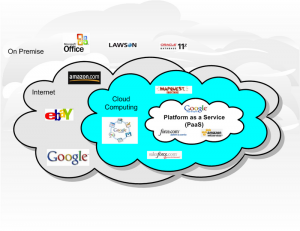 2010 was a big year for Cloud Computing and as the year approaches to an end we take a look and the top Cloud Computing stories of the year that made headlines around the world.
Oracle Moves To The Cloud
Larry Ellison, CEO of Oracle Corp has not been a big supporter of Cloud Computing until recently. Back in 2008, he was quoted in the media with:
"The interesting thing about cloud computing is that we've redefined cloud computing to include everything that we already do. I can't think of anything that isn't cloud computing with all of these announcements. The computer industry is the only industry that is more fashion-driven than women's fashion."
At the OpenWorld conference this year Larry Ellison not only stopped continuing statements like the above, but launched Cloud Computing products on his own: The Oracle Exalogic Elastic Cloud server combines 64-bit x86 hardware, a total of 30 compute servers with 360 cores, with Oracle middleware such as the WebLogic server, Oracle Coherence data grid software, JRockit Java runtime software and Oracle VM virtualization software. Oracle's announcement reads:
World's Best Foundation for Cloud Computing: Oracle Exalogic Elastic Cloud is the world's first and only integrated cloud machine—hardware and software engineered together to provide a "cloud in a box".
The system can handle 1.8 million messages per second or 1 million HTTP requests per second and uses Infiniband technology (capable of handling 40 gigabits per second) to link its internal components, has 2.8 TB of DRAM, 4 TB of read cache and 960 GB of solid-state disk storage.
And – no doubt – Oracle is on the right way. A late starter? It's more about doing things right.
Rackspace Introduces OpenStack Initiative
In July of this year, Rackspace introduced the OpenStack initiative, a game-changer in cloud computing and in Rackspace's own product offering. Through OpenStack, Rackspace is opening up its Cloud Servers cloud compute and Cloud Files cloud storage code in a bid to build an open source community and create an easier path to cloud adoption for service providers, enterprises and government agencies.
New capabilities were added in October when Rackspace launched a new release. At the time, OpenStack had 35 partners contributing to the environment.


OpenStack is a collection of open source technologies delivering a massively scalable cloud operating system. OpenStack is currently developing two interrelated projects: OpenStack Compute and OpenStack Object Storage. OpenStack Compute is software to provision and manage large groups of virtual private servers, and OpenStack Object Storage is software for creating redundant, scalable object storage using clusters of commodity servers to store terabytes or even petabytes of data.
Microsoft Signs Cloud Computing Deals with NYC and California
After a slow start on its cloud computing product range, Microsoft signs several deals with cities and states in the U.S. In October, Microsoft signed a record, five-year deal with the city of New York.
Microsoft CEO Steve Ballmer and New York Mayor Michael Bloomberg unveiled the deal, which should save the city $50 million over five years by consolidating existing licenses and leveraging Microsoft's cloud computing offerings. It is part of a larger strategy by the city that shall renew the tech infrastructure and centralized IT planning. Phase 1 will move 30,000 of the city's 100,000 employees to Microsoft's cloud productivity services. The city estimates it will save $98 million under the plan.
In a statement to the press, Ballmer said:
"With Microsoft's latest cloud-based productivity and collaboration tools, New York City employees will benefit from having better access to information, improved collaboration and information sharing among city agencies (…) Additionally, this comprehensive partnership provides the latest in operating system, server and development tools laying a foundation for greater innovation and infrastructure modernization."
Google Launches Cloud App Store
Google launched an online marketplace where third-party suppliers of on-demand, cloud computing applications, can offer their wares to supplement the Google Apps cloud suite.
In October, the Google Apps Marketplace boasted more than 200 applications targeting different segments including customer management, project management, productivity, accounting, education, legal and a host of other concentrations.
More than 2 million businesses have adopted Google Apps over the last three years, eliminating the hassles associated with purchasing, installing and maintaining hardware and software themselves.
IBM is Getting Smarter With Cloud Computing
IBM is accelerating its own Cloud ecosystem which is part of its major IBM Smart Business campaign. With IBM Cloud it is enhancing its offering of test and development services with an increasingly larger network of partners.
IBM offers a host of services such as IBM Strategy and Change Services for Cloud Adoption and IBM Strategy and Design Services for a Cloud Infrastructure to help clients develop a cloud roadmap.
IBM Cloud Service Provider Platform (CSP2) accelerates and simplifies deployment of a complete cloud services environment. CSP2 enables rapid ROI by expediting the launch of cloud-based infrastructure and platform services. Amongst many other companies, PayPal is joining IBM to offer services to enterprise clients.
In October, IBM extended its cloud offering with new security, risk solutions, and business innovation with the IBM Cloud.
Google and VMware Partner In the Cloud
Google and VMware entered into a cloud computing partnership in April of this year. This might have been influenced by an increased competition from tech giant Microsoft.
The goal of the new duo is to allow Java developers to build and run Spring-based Java applications on Google App Engine. The apps can then be launched on Google App Engine for Business or any VMware vCloud service, including VMware and Salesforce.com's VMforce.
"Companies are actively looking to move toward cloud computing.  They are certainly attracted by the economic advantages associated with cloud, but increasingly are focused on the business agility and innovation promised by cloud computing," said Paul Maritz, president and CEO of virtualization software company VMware.
Google and VMware are also said to be working on products that will provide end-to-end performance visibility of the cloud applications built using the companies' software tools.
Database Goes To The Cloud with Salesforce.com
Dreamforce 2010 has been a revealing event in many aspects. Out of the many announcements, one new product stands out: Salesforce's expected launch of Database.com. What a URL – and what an initiative.
Database.com is a core component of the Force.com platform. As such, a large number of tools and toolkits are already available for accessing the database from a variety of languages and platforms, from Java on a server to iOS on a phone. It includes a social data model, file storage, user management, authentication and further development tools.
Amazon FY10 Revenues To Reach $750 million in Cloud Computing
In July, a report surfaced estimating that Amazon could generate $500 million in cloud computing revenue in 2010 and that cloud revenue could hit the $750 million mark in 2010. That same report, by UBS analysts Brian Pitz and Brian Fitzgerald estimated that come 2014 Amazon cloud generate $2.5 billion for the online book store turned cloud computing kingpin.
After launching its Elastic Compute Cloud (EC2) in August 2006, Amazon extended its service with numerous features and additional functionalities and also took good care of gradually decreasing its pricing.
Determining how much cash Amazon generates from its AWS offerings is difficult, so any insight into its possible dollar value is a pretty big deal, especially as Amazon keeps its cloud revenue relatively under wraps.