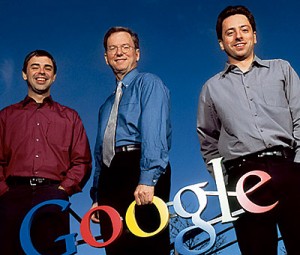 Google Inc. announced that co-founder Larry Page will replace Eric Schmidt as chief executive in a surprising management reshuffle announced with the Internet company's fourth-quarter earnings, which jumped 29%.
Schmidt said in Google's press release that the change will "create clearer responsibility and accountability at the top of the company." Schmidt holds 9.2 million Google shares that at current prices are worth almost $5.8 billion. Google said in a regulatory filing that Schmidt plans to sell 6% of that stake over the next year under a preplanned trading arrangement he filed last month with the Securities and Exchange Commission.
Page takes the reins at a time when Google is striking out in multiple directions with its small businesses, from its online video site YouTube to its large push in mobile advertising with Android. The investments, which drew their share of skeptics, are beginning to take hold even as its core search and advertising business continues to hum.
"Google continues to gain momentum and beat even the highest expectations," said Clayton Moran, an analyst at Benchmark Co. "People keep calling for growth to slow down, but the growth continues to be stellar."
About a year ago, the company indicated that Nikesh Arora, head of global sales, would take on a more prominent and public role, such as appearing at conferences and speaking with the media. Those roles had traditionally been Schmidt's.
The Google leadership had seemed happy with their unusual "troika" arrangement, but some sources said Schmidt was tired of being the public face of the company. The CEO was initially brought on in 2001 to provide guidance to Google's young co-founders, and Thursday he tweeted, "Day-to-day adult supervision no longer needed!"