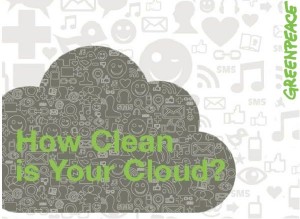 IT giant Apple has recently come under fire for failing to fulfill its commitment to promote green practices in cloud computing, judging by the company's decision to stop submitting their products to the Electronic Product Environment Assessment Tool (EPEAT) for certification.
In light of Apple's recent decision to withdraw from the EPEAT certification program, environmental advocacy group Greenpeace have released statements chiding Apple's move, citing that the company is deliberately slow when it comes to acting on the promise to start powering their data centers with renewable energy (which meant abandoning the use of coal-generated power).
Greenpeace has also published a report entitled "A Clean Energy Road Map for Apple", which is a follow up on their April report entitled "How Clean is Your Cloud?". The report outlined Apple's promises last May, which includes plans to transfer their NC datacenter exclusively to renewable power by the year's end, along with promises to ensure that all three of their major data centers will be coal-free before the end of 2013.
Greenpeace's report shows that Apple has already made some headway into the plans, with the company's "scorecard grades" seeing improvement since April from D to C in the Energy Efficiency/Greenhouse Gas Migration and Renewables/Advocacy categories, while their grades in Infrastructure Siting category have increased to D from its previous F.
The problem is that Apple's grade for Energy Transparency has stayed a D. The low grade is to be expected considering Apple's tendency to be secretive, which is good for their business as it encourages press coverage. However, when it comes to community engagement on environmental problems, it turns into a big problem.
According to Greenpeace International senior policy analyst Gary Cook, Apple still has a long way to go when it comes to transparency. The analyst further noted that while Apple is very good in providing narratives that talk about environmental leadership, they fail to provide any substantial detail that will back up their claims.
Cook also notes that Apple's environmental commitments pale in comparison to the company's growth and success as a company, and that their followup report and news about Apple's EPEAT withdrawal have no connection to each other. However, Cook says that the EPEAT withdrawal, which is based on Apple's preference of design over repairability and ease of disassembly, is a poor decision and a step back from what was once considered good environmental leadership shown by the IT giant.
Cook says that Apple's products need to be repairable and to last longer, which is something that doesn't come off as a priority based on their refusal to have products certified by EPEAT.
Greenpeace, however, states that they are not singling out Apple, especially since thye have also pushed Microsoft and Amazon to support more environment friendly cloud computing operations.
One of the biggest concerns Greenpeace has is Apple's failure to specifically define "renewable energy", which could mean that the company is still considering the use of coal power from Duke Energy, while buying North Carolina Renewable Energy Credits just to be certified as "coal free" in name.
Apple has not responded to any requests for comment, which is keeping in line with Greenpeace's complaint that the company lacks transparency.