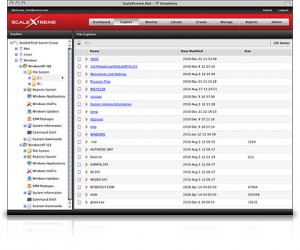 We have been covering data center management and also managed services in the cloud e.g. Rackspace's new offering. ScaleXtreme focuses on a cloud based IT systems management. The Palo Alto company is backed by Accel Partners, a leading venture capital firm.
ScaleXtreme took a $2.5 million investment in a series A round in August 2010. Its co-founders successfully started and sold various companies. CTO Balaji Srinivasa was the principal product architect for BladeLogic before it was sold to BMC. CEO Nand Mulchandani founded and sold several enterprise startups in the past and was also the CEO of OpenDNS and an EIR at Accel.
The company's competitors include the Kleiner Perkins Caufield & Byers backed Puppet Labs; and ScienceLogic which has received funding from New Enterprise Associates (NEA).
The cloud based approach for data automation wants to do the same what Salesforce did to CRM: replace million-dollar deployments that take months with a five minute download that can have a machine being managed from the cloud in five minutes. The pricing is expected to be a tenth, with an estimated $150 per year per machine. The service will work both on servers inside a company's data center and virtual servers on Amazon and other cloud computing data centers.
CEO Mulchandani sees data center automation as a greenfield opportunity for a cloud-based enterprise startup, much like CRM was a decade ago:
"The space has atrophied with very long deployment cycles, and millions of dollars spent on deployment. Nothing has happened in data center automation. These larger guys, like IBM and EMC, are tuned for on-premise. For them, the cloud is this bolt-on thing, not built from ground up. A lot of people are spinning up 100 or 1,000 to 10,000 machines on Amazon in bursts and then they go away. These older products are not designed for this rapid escalation and de-escalation of machines."
Although the space is getting more crowded, there is certainly an interesting opportunity in the enterprise cloud for data center management, especially if the market can be attacked with lower price levels.
About ScaleXtreme
ScaleXtreme is building the next generation of systems management products delivered as a cloud service.
Built from the ground up to be simple, scalable, and social, ScaleXtreme's product aims to transform the way IT admins manage their Amazon EC2, VMware virtual machine and physical server deployments. ScaleXtreme was founded by a team with deep expertise in enterprise software and systems management, including Bladelogic and VMware, and is backed by Accel Partners.